We have no idea how we missed this on our list of books to look out for in 2015, but David Duchovny has written a novel.
It's called Holy Cow – which oddly enough is precisely the reaction we had when we heard the news – and the former X-Files heart-throb says, modestly, that it's "like Charlotte's Web or Animal Farm, if I'm lucky".
Described by his publisher as "a comic delight that will thrill fans of Jasper Fforde and Ben Aaronovitch", and by the LA Times as "a loopy fairy tale", Holy Cow is the story of a cow from Upstate New York who decides to travel to India. She is joined by a Jewish pig and a turkey.
It's due out on 3 February.
Back in the day, Duchovny wrote his senior thesis at Princeton on Samuel Beckett – it was entitled "The Schizophrenic Critique of Pure Reason in Beckett's Early Novels" – and then went to Yale to do his doctorate, but as he admits to the LA Times: "I didn't write my dissertation, so I don't have a PhD."
In an interview with The New York Times, however, Duchovny says his writing style was not influenced by the Irish playwright: "I still like language a little too much to call myself Beckettian. He is very austere, and I like fooling around with words. I guess I'm more Joycean, although that'll sound really pretentious."
If the excerpt below isn't enough Duchov for you, you'll be pleased to know that in addition to the confirmed return of Twin Peaks and the rumoured return of The X-Files, Duchovny is also releasing an album this year.
Read the excerpt from Chapter 1 of Holy Cow:
PLEASE ALLOW ME TO INTRODUCE MYSELF

Most people think cows can't think. Hello. Let me rephrase that, most people think cows can't think, and have no feelings. Hello, again. I'm a cow, my name is Elsie, yes, I know. And that's no bull. See? We can think, feel, and joke, most of us anyway. My great-aunt Elsie, whom I'm named after, has no sense of humor. At all. I mean zero. She doesn't even like jokes with humans in them doing stupid things. Like that one that goes—two humans walk into a barn . . . Wait, I may not have much time here, I can't mess around.

Just trying to get certain things out of the way. Let's see, oh yeah, how am I writing this, you may wonder, when I have no fingers? Can't hold a pen. Believe me, I've tried. Not pretty. Not that there are many pens around anymore, what with all the computers. And even though we can think and feel and be funny, we cannot speak. At least to humans. We have what you people used to call an "oral tradition." Stories and wisdom are handed down from mother cow to daughter calf, from generation to generation. Much the way you receive your Odysseys or your Iliads. Singing, even. Sorry for the name-dropping. Homer. Boom. I'll wait while you pick it up.
Listen to Mulder … er, I mean Duchovny reading the first chapter:
And watch a video of him explaining himself: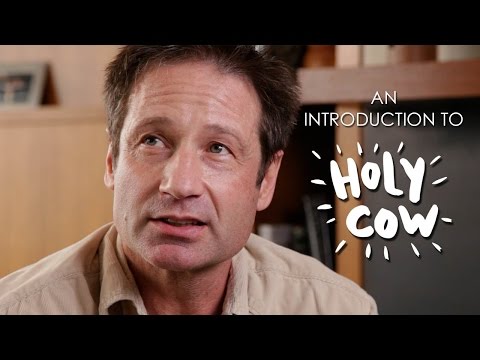 Book details
Image courtesy of Duchovny Central