Alert! Lauren Beukes is rewriting the rules for South African fiction. She was announced as the winner of the 25th Arthur C Clarke award for science fiction at the Sci-Fi London Film Festival last night, for her novel Zoo City – news that sparked an instant party on the medium that has helped spread her renown, Twitter.
Beukes' husband, Matthew Brown, was amongst the virtual revelers:


See below for more tweeted delirium.
"I won!" Beukes texted BOOK SA from the London venue – just before, presumably, she was mobbed by these well-wishers:
Yep, she's in that sci-fi scrum somewhere!
Beukes joins the likes of China Mieville as a Clarke laureate (Mieville was the 2010 recipient, and was at the awards to announce the 2011 winner; Margaret Atwood was the first winner, back in '86). As Fiona Snyckers speculated last night, she may be the first South African to receive the honour.
Beukes, who rocked a sloth scarf over her gold dress – she was "animalled" for the occasion, after the fashion of her book's main character – said she was "overwhelmed" by the win in her acceptance speech, and thanked BOOK SA member Sam Wilson, along with Charlie Human and Evan Milton, who each contributed a chapter to her novel.
Watch the announcement of the winner and Beukes' acceptance speech: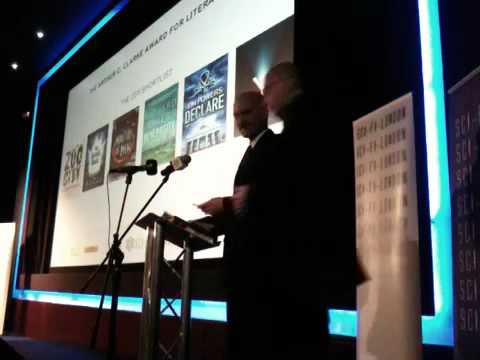 It's the second honour in nearly as many days for Zoo City: the novel's arresting cover, by Joey Hi-Fi, won in the "Best Art" category at the British Science Fiction Awards at the weekend. It's not certain what, exactly, Beukes and Hi-Fi take home with their awards, apart from due acclaim, thought it would seem that Beukes gets a cheque for £2011. (If anyone knows whether/what prize money, trophies or other items are given with the awards, please post a comment below. Thanks!)
Beukes' wild ride with Zoo City, meanwhile, is far form over: her novel has been shortlisted for the University of Johannesburg Prize; and she's up for the USA's John W Campbell Award for Best New Sci-Fi Writer later this year.
In short, Beukes is tearing it up. Heartiest, but heartiest congratulations, Lauren! Bubbly aplenty is waiting for you back home!
Now, gentle reader, get off yer duff and get a copy of Zoo City. It's world-class:
~ ~ ~
Here follows a sampling of tweets celebrating Zoo City's big win