The Bay Bookshop invites you to the launch of Jason Drew's The Protein Crunch: Civilisation on the Brink, a book that reveals the truth about the food industry and its negative impact on the environment.
Event Details:
From the book's blurb: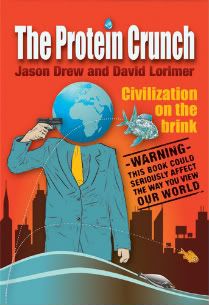 The Protein Crunch – Civilisation on the Brink reveals the shocking truth of how we have abused the very ground we stand on, the water we drink and the seas that cover our planet.
Water, land and sea combine to produce the food we eat. These natural resources have become critically degraded at a time when our expanding population needs them most: WE MUST ACT NOW. This accessible, mass market bestseller offers radical new explanations, arguments and solutions to the way we live and treat our planet:
* PART ONE – Elements of the Eco-Crunch Water • Land • The Seas
* PART TWO – At the Limits and Beyond. Cities and Population Growth Animal Cities and the Agri-industry
* PART THREE – The Protein Crunch: less meets more = crunch time! Our options and choices
The Protein Crunch offers conditional hope for the future: and the condition is that certain actions are taken now rather than postponed. Hope without action is just a comforting illusion.
About the authors
Jason Drew is an international business leader and serial entrepreneur turned environmentalist. He chairs a number of organisations including www.AgriProtein.com, his latest green venture. Born in London, Jason studied at the European Business School and has lived and worked all over the world before settling in South Africa in 2004. He has held leadership roles in a number of international businesses from General Electric to BUPA and Egg before leading the start-up of Africa's leading outsourced services provider with over 3,000 staff. He collects medieval English pewter and contemporary South African art, enjoys polo, flying and fishing as well as opera and rock. He is married with two sons.
David Lorimer is a writer, lecturer, editor and Programme Director of the Scientific and Medical Network and editor of "Network Review". First a merchant banker then a teacher of philosophy and modern languages at Winchester College, he is the author and editor of many books, most recently Thinking Beyond the Brain, Science, Consciousness and Ultimate Reality and A New Renaissance. His book on the ideas and work of the HRH Prince of Wales ­Radical Prince has been translated into Dutch, Spanish and French. David is currently Chief Executive of Character Education Scotland.
View the book trailer
Book details