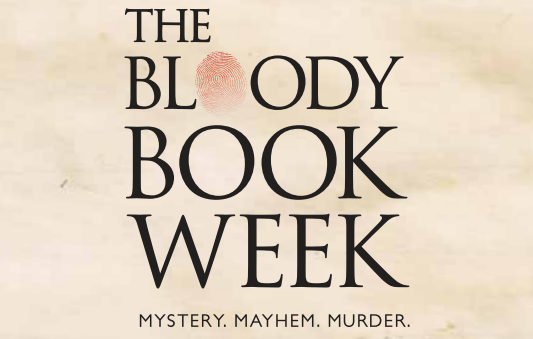 The complete programme for Jenny Crwys-Williams' inaugural Bloody Book Week has just been released! Bloody Book Week, which takes place over the next week, features both fiction and non-fiction crime writers, including Books LIVE member, Mike Nicol, and Sunday Times Fiction Prize winner, Sifiso Mzobe. Events take place in and around Joburg and are free of charge unless otherwise indicated. Not to be missed is the Bloody Book Week Opening Night Party on Monday evening at Exclusive Books Hyde Park.
From the press release:
From CSI to Dexter, from The Girl With the Dragon Tattoo to Jeffrey Deaver, crime is a genre that is growing rapidly, and South Africa is no exception as a crop of local authors take on a big international writers at their own game.

Now South Africa has its very own Joburg-based crime book festival: The Bloody Book Week: Mystery. Mayhem. Murder. running from Tuesday 25th – Sunday 31st July 2911.

The brainchild of talkshow host, author and book event promoter, Jenny Crwys-William, first Bloody Book Week features a best-selling international crime writer and a selection of some of South Africa's finest crime writing talent, both fiction and non-fiction. Crwys-Williams hopes to extend the reach of The Bloody Book Week to Joburg-based bookclubs to spread the reach of the event across the city. Everyone, she says, is welcome.

For the last five years Cryws-Williams has hosted one evening a year where international crime writers (John Connolly, Michael Connelly, Jeffrey Deaver, Peter Robinson, Deon Meyer, etc) have spent an evening with local authors from Mike Nicol to Margie Orford. In many ways, The Bloody Book Week is an extension of those evenings.

The inaugural Bloody Book Week will feature non-fiction writers such as Mandy Wiener and serial killer profiler Micki Pistorius alongside the award-winning British crime writer Michael Robotham, with a host of outstanding South African crime novelists, including Deon Meyer.

"The crime book festival will present a positive image of the South Africa crime writing industry and eventually will add to tourism in Joburg," says Crwys-Williams.
And, without further ado, here it is:
Monday 25 July:
Book signing with Mandy Wiener, Michael Robotham, Mike Nicol and Sifiso Mzobe
Time: 12:00 PM for 1:30 PM
Venue: Estoril Books, Shop M10, Fourways Mall,
Cnr Witkoppen & William Nicol | Map
Bookings: 011 465 6885
The Bloody Book Week Opening Night Party
Time: 06:00 PM for 06:30 PM
Venue: Exclusive Books Hyde Park,
Shop U30,
Cnr Jan Smuts Ave,
Craighall
Bookings: 011 325 4298
* * * * *
Tuesday 26 July
A discussion between Mandy Wiener and Antony Altbeker
Time: 05:30 PM to 06:30 PM
Venue: Love Books,
The Bamboo Centre,
53 Rustenburg Rd,
Melville | Map
Bookings: 011 726 7408
Sifiso Mzobe talks about his Sunday Times award-winning novel, Young Blood, plus book signing
Time: 06:00 PM to 08:00 PM
Venue: Boekehuis,
Cnr Lothbury and Fawley Aves,
Auckland Park | Map
Bookings: 011 482 3609
Jenny & Co hosts a dinner with Michael Robotham and Mike Nicol
Time: 07:00 PM for 07:30 PM
Venue: Bellagio,
Bluebird Shopping Centre,
Cnr Atholl-Oaklands Rd and Fort Str,
Birnam | Map
Bookings: justjenny@iafrica.com
Cost: R300 (VIP); R350 (Loyalty)
Mandy Wiener talks about her best-selling book, Killing Kebble
Time: 08:00 PM
Bookings: 011 513 2800
* * * * *
Wednesday 27 July
Coffee Morning with Mandy Wiener
Time: 11:00 AM to 12:30 AM
Venue: Novel Books,
Shop F8A, Hobart Grove Shop Centre,
Cnr Hobart and Grosvenor Rd | Map
Bookings: 011 463 9320
Tune into a conversation with Jenny Crwys-Williams, Sifiso Mzobe, Mike Nicol and Michael Robotham on Talk Radio 702
Vusi Pikoli talks about his role in the run up to the Selebi Trial with journalists Mandy Wiener (Talk Radio 702) and Adriaan Basson (City Press)
International bestseller Michael Robotham chats about his books and takes questions
Time: 06:00 PM
Venue: Skoobs
74 Montecasino,
1 Montecasino Boulevard,
Fourways
Bookings: 011 513 2800
* * * * *
Thursday 28 July:
Coffee morning with Carol Thompson, who talks about her heart-rending story in Betrayed: A Mother's Fight for Justice, with Sam Cowen of 94.7
Tune into a conversation with Redi Direko and Sifiso Mzobe on Talk Radio 702
Sifiso Mzobe and Mike Nicol chat about the challenge of writing crime fiction
Time: 05:30 PM to 06:00 PM
Venue: Love Books
The Bamboo Centre,
53 Rustenburg Rd,
Melville
Bookings: 011 726 7408
Mike Nicol talks about his books and takes questions
Time: 06:30 PM
Venue: Skoobs
74 Montecasino,
1 Montecasino Boulevard,
Fourways
Bookings: 011 513 2800
Deon Meyer in conversation with Bheki Cele
* * * * *
Friday 29 July:
Lunch in Pretoria with Mike Nicol, Sifiso Mzobe, Deon Meyer, Michael Robotham and Mandy Wiener
Time: 11:20 AM to 02:30 PM
Bookings: 011 462 2302; helen@helco.co.za
Cost: R195 (members); R230 (non-members); R180 (pensioners)
Lunch with former serial killer profiler and author, Micki Pistorius
International crime writer Michael Robotham entertains his audience
Time: 05:30 PM to 07:30 PM
Venue: Novel Books
Shop F8A, Hobart Grove Shop Centre,
Cnr Hobart and Grosvenor Rd
Bookings: 011 463 9320
Deon Meyer chats to Antony Altbeker and takes questions
Time:
Venue: Skoobs
74 Montecasino,
1 Montecasino Boulevard,
Fourways
Bookings: 011 513 2800
* * * * *
Saturday 30 July:
How to write that best-selling crime novel: Michael Robotham and Mike Nicol with Sifiso Mzobe
Time: 09:00 AM to 01:00 PM
Venue: Sappi,
48 Ameshoff Street,
Braamfontein
Bookings: justjenny@iafrica.com
Cost: R200 (Free entrance on presentation of valid Student Card)
Good vs bad reading for the littlies: 4-8 year olds
Time: 10:00 AM
Venue: Love Books,
The Bamboo Centre,
53 Rustenburg Rd,
Melville
Bookings: 011 726 7408
Book signing: Deon Meyer and Mandy Wiener
Time: 09:30 AM to 10:30 AM
Venue: CNA Cresta,
Shop U103, Cresta Centre,
Beyers Naude Drive,
Randburg
Bookings: 011 770 3883
Mandy Wiener and Deon Meyer chat about their respective books and sign copies
Time: 11:15 AM to 12:15 PM
Venue: Boekehuis
Cnr Lothbury and Fawley Aves,
Auckland Park
Bookings: 011 482 3609
Book signing: Deon Meyer and Mandy Wiener
Time: 01:00 PM to 02:30 PM
Venue: CNA East Rand Mall,
Shop 86A, East Rand Mall,
Bentel Ave
Boksburg North
Bookings: 011 823 8700
A murder dinner with a difference: Forensic scientist David Klatzow (Steeped in Blood) on how to solve the most dastardly of crimes
Book details