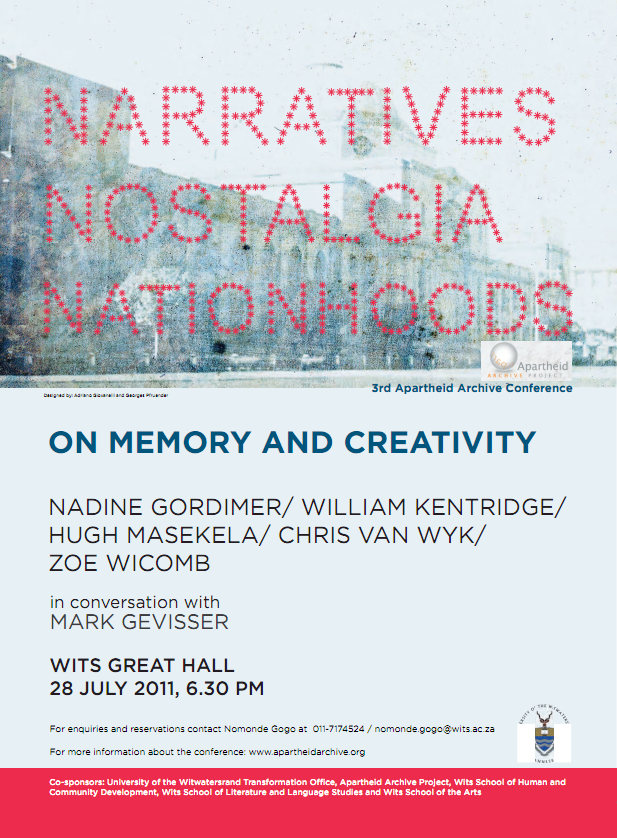 On 28 July, Mark Gevisser will chair a discussion entitled "On Memory and Creativity" with artistic stalwarts Nadine Gordimer, William Kentridge, Hugh Masekela, Chris van Wyk and Zoe Wicomb. The event forms part of the 3rd Apartheid Archive conference, "Narratives, Nostalgia, Nationhoods", which takes place from 27-29 July at Wits University. Other notable conference participants include Jacob Dlamini, Gabeba Baderoon, Pumla Gobodo-Madikizela, Jo Ractliffe and Kopano Ratele.
Event details: On Memory and Creativity
From the Mail & Guardian:
Mark Gevisser will lead Nadine Gordimer, William Kentridge, Hugh Masekela, Chris Van Wyk and Zoë Wicomb in discussion at a unique discussion at the Wits Great Hall as part of the 3rd Apartheid Archives Conference held under the theme Narratives, Nostalgia and Nationhoods between 27 and 29 July 3011.

The On Memory and Creativity discussion, taking place at 6.30pm is free and open to the public

"To watch these five national treasures, across three media, on one platform, will be a unique and exhilarating experience," says Gevisser. "I sometimes think we take our artistic talent in South Africa for granted. These extraordinary thinkers and artists have defined the way many people across the globe think not only about South Africa, but about memory and history, about oppression and liberation. This event will not only be entertaining and provocative, but will be a moment to celebrate the greatness of South Africa's creative spirit and regenerative capacity."
Book details
Go Home or Die Here: Violence, Xenophobia and the Reinvention of Difference in South Africa edited by Tawana Kupe, Eric Worby, Shireen Hassim
EAN: 9781868144877
Find this book with BOOK Finder!
Event invite courtesy Markgevisser.com