Words by Arja Salafranca; photos by Liesl Jobson:
Last Thursday night saw the Cape Town launch of The Edge of Things, an anthology of South African short fiction selected by me and published by Dye Hard Press. This followed a month after the Jozi launch at Love Books in Melville.
Hosted by The Book Lounge, the launch was a chance for me to meet some of the Cape Town writers with whom I'd previously only had email dealings, as well as a chance to catch up with writing friends.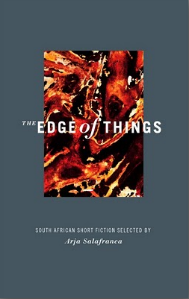 I engaged ten of the contributors in conversation, speaking to them about their stories and the inspiration for each piece, as well as their writing lives. The writers present also read from their respective stories, providing the audience with an overall "flavour" of the collection. Contributors present included Liesl Jobson, Karina Magdalena Szczurek, Jenna Mervis, Jennifer Lean, Margie Orford, Aryan Kaganof, Rosemund Handler, Tiah Beautement, Jeanne Hromnik and Silke Heiss.
I introduced the anthology by speaking a little about its genesis – The Edge of Things is a special edition of the journal Green Dragon, which has been published since the early 2000s by Gary Cummiskey of Dye Hard Press. In 2009, I suggested that a special edition of the journal be devoted to the genre of the short story – and the entries flooded in. I read over 100 submissions. Such was the quality and quantity of the final product that it was decided an anthology should be published instead of a journal.
Quote of the night had to belong to Margie Orford, known for her crime novels, who said, "I write short stories when my agent orders me to." Orford admitted to feeling something of an impostor in the gathering of short fiction writers.
I had also to applaud contributor Karina Magadalena Szczurek's reply to my comment that short stories are the Cinderellas of the South African literary world. She quite rightly pointed to the packed gathering, and indicated that such interest in the genre meant that short stories have certainly come into their own. It was pleasing to see this oft-marginalised genre attracting such a crowd.
I mentioned to Jennifer Lean that her story, "The End", struck me as a sad piece about old age and loneliness. In response, Lean remarked that for her it wasn't a sad story at all, but rather one of triumph over adversity – it just shows how subjective our experience of art is. And, though her story still makes me sad, its testimony to the beauty of our varied responses to art.
Facebook gallery
Book details