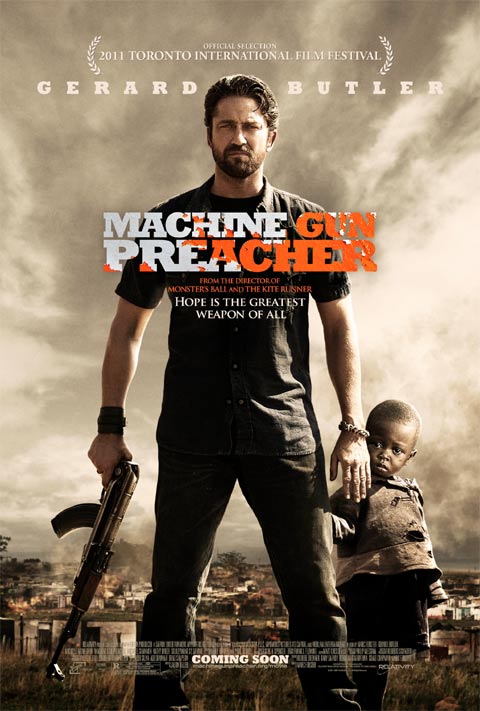 Richard Poplak, author of The Sheik's Batmobile and Ja, No Man, says that Mark Foster's latest film, Machine Gun Preacher, is the worst film of 2012. This revelation is by no means shocking; if just one of the film posters is anything to go by, it's unlikely that the narrative will contain any traces of moral subtlety.
Writing in the Daily Maverick, Poplak says that the film is essentially a "badly shot action film" when it could have been "a fascinating moral study". The film is based on the real Sam Childers and his memoir, Another Man's War: The True Story of One Man's Battle to Save Children in the Sudan, a man whom Poplak describes as a "massively complicated figure". Briefly put, Sam Childers is a man from Philidelphia who gave up his thuggish lifestyle to become a preacher and fighter in southern Sudan and Uganda, where he continues to battle the forces of the Christian militia group, the Lord's Resistance Army. His motto? "Save the children".
In what seems like an attempt to flood the movie market with films about himself, the "machine gun preacher" is also the focus of the made-for-Cannes documentary of the same name. Childers' website also advertises another, separate, documentary, this time under the humble description of "reality series". This begs the question, is Childers doing it for The Children or The Big Screen?
Watch the trailer:
Referring to Childers' fight against LRA soldiers led by "self-styled messiah" Joseph Kony, Poplak says that Foster and his screenwriter have failed to see the similarities between Kony and Childers, both of whom have "an open line with the Almighty".
According to Poplak, this isn't the first time that the character Joseph Kony has "played the foil for Westerners". He cites Jane Bussman ("Sarah Silverman in khaki") who writes about LRA brutality in her book, The Worst Date Ever: War Crimes, Hollywood Heart-throbs and other Abominations – a book in which she describes refugee camps as "more depressing than the time she found her boyfriend 'wanking and crying at the same time'".
Speculating as to why Foster didn't complicate his narrative, Poplak says that he, like most Westerners, simply can't conceive of a complicated Africa. Machine Gun Preacher is currently showing at a cinema near you.
Africa is a continent of almost a billion people, most of whom are waiting to be saved. This axiom fuels Machine Gun Preacher, a new film directed by a Hollywood-by-way-of-Basel hack named Marc Forster. Forster's movies tend to coagulate into a mulch of overblown action and Euro pretension, and those are just the good parts. Unjustly praised for the Halle Berry Oscar-baiter Monster's Ball (he fetishizes the American lower class once again in his latest), he was properly pilloried for the Kite Runner and the unwatchable Bond sequel Quantum of Solace. By comparison, his latest makes the rest of his oeuvre look like Stanley Kubrick's.

Machine Gun Preacher, a terrible film by almost any standard, qualifies as a disappointment only because there is a story worth telling among all the bwana worship, poorly acted fulminations and shaky-cam shoot-'em-ups. Gerard Butler, who should get his SAG card revoked for his Philly accent alone, plays the real life Sam Childers, a thug-turned-preacher who found God, and then redemption, in southern Sudan and Uganda. His ex-stripper wife (played by Michelle Monaghan, who looks more like a middle-period Michael Jackson everyday) turns him on to Jesus, and he finds his purpose in a heavily armed squabble with the Lord's Resistance Army (LRA), a messianic Christian militia that is less rebel force than murderous scourge.
Book details
Image courtesy the Huffington Post