Despite the massive online petitioning and rallying of the book community, the Naspers-owned bookstore Boekehuis closes shop today. The Johannesburg bookstore, voted in 2006 by the Independent Booksellers Federation as one of 50 unique bookshops in the world, was what Percy Zvomuya called a "lekgotla for the city's intellectuals".
While the huge response to the petition led some to argue for Naspers' "duty" to keep the bookstore afloat, many agreed that the outpouring of support arrived a little too late to save the store. Boekehuis sent out its final newsletter today:
* * * * * * * *
Dear Friends of BOEKEHUIS,
We would like to offer our heartfelt thanks to all of you for your loyal support and kindness during the 12 years of the wonderful project of BOEKEHUIS.
It has meant a great deal to us, as have your attempts to prolong the life of the shop. Today is our last day.
For future projects From 1 February 2012 Corina van der Spoel can be contacted at her new email address: books@corinavanderspoel.com
~ ~ ~
Beste Vriende van BOEKEHUIS
Ons hier by BOEKEHUIS wil almal hartlik bedank vir u jarelange ondersteuning en vir die warmte en liefde wat ons van u ervaar het. Dit was 12 wonderlike Boekehuis-jare.
Dit het soveel vir ons beteken, en veral ook die ongelooflike reaksie en pogings om die lewe van die boekwinkel te verleng. Vandag is ons laaste dag.
~ ~ ~
With warm wishes / Met beste wense
Corina van der Spoel
Bettie Parsons
Leandri Snyman
Eunice Makume
Vivienne Modirwa
* * * * * * * *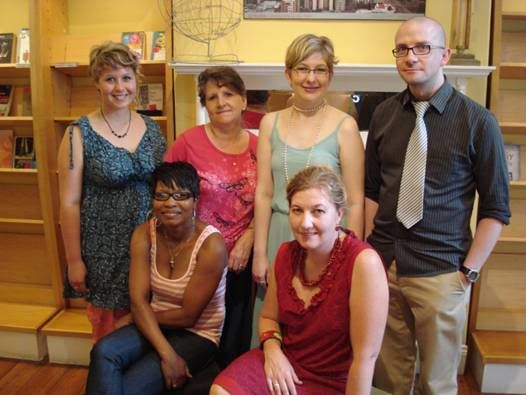 One need not see the Boekehuis' closing necessarily as an indictment of the book reading culture in South Africa. With independent bookstores like The Book Lounge and Kalk Bay Books hosting packed out events and the growing presence of sites dedicated to local literature, there are good signs that South Africa's reading public is growing, not shrinking.
Today, book lovers said their goodbyes on Twitter:
Photo courtesy Maroela