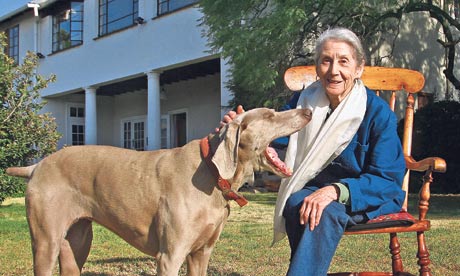 Scott Smith from The New Age interviewed Nobel laureate Nadine Gordimer, who spoke about her forthcoming novel, No Time Like The Present, and the challenges of writing "in the sunset of a glittering career". In the interview, Gordimer reveals that her favourite South African author is Mongane Wally Serote and describes his 2002 novel, Scatter the Ashes and Go as "brilliant work that no one has come close to".
Gordimer says her latest novel is "not about race". Instead, she explains, "It's about what those who were in the struggle didn't have the peace of mind to think about. It's about the problems that came after freedom. We just didn't think about what it would be like afterwards. Today, the past still needs to be dealt with." On the topic of writing at the age of 88, she confesses that she will give up writing if her standards seem to be dropping, as has happened to other ageing writers.
Gordimer also mentions that that one lingering regret of hers is that she never learned an African language:
Nadine Gordimer turns 89 later this year but she's as sharp as a tack. I still found myself fumbling my words and racing to keep up with her answers or spinning to find the next question to keep the interview going. She's formidable, with a mountainous reputation, an intellect to boot and an activist's stance that is respected far beyond the borders of this country, one she has fought so hard to liberate through the sharpness of her pen. She was awarded the Nobel Prize for literature 20 years ago in such recognition. She snapped at me more than once for inaccurately describing her most recent novel or questioning whether she still considers herself an activist, but she was always polite. Just like her writing; considered, deliberate and strong. That said, I think she took a liking to me.

A fan of Gordimer since I was a child, I knew of her since I first knew writing. She, among others, exposed me to what South Africa really was at that time. That was decades ago but her writing today still resonates with the truth as she knows it. She still writes with drive and conviction.
Book details
Photo courtesy The Guardian