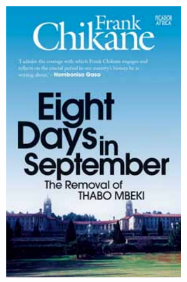 In an article on www.witspress.co.za, Susan Booysen, author of The African National Congress and the Regeneration of Political Power, highlights the links between her book and Frank Chikane's recently released Eight Days in September.
As Booysen reveals in her own book, those eight days were a result of the Presidency's mistaken omnipotence; it was only on the eve of the 2007 Polokwane vote that Mbeki realised he was not in control of the Party.
Booysen also critiques several aspects of Chikane's book, arguing that Mbeki is not entirely an "innocent" player, as Chikane would suggest, and that Chikane's argument that the country would have descended into instability had it not been for Mbeki's "statesmanlike handover" does not hold much water.
Frank Chikane's Eight days in September … is the controlled-but-traumatised memoirs of a person who saw the pillars of his Union Buildings kingdom tumble down around him.[i] These are the personal – and in themselves faction-linked – observations of a key player in the events of September 2008, and in the decade preceding those events. Ironically, they come at a time when the most probable unintended consequences will be renewed empathy with the rise of Jacob Zuma.

This analysis focuses on three of Chikane's arguments that have come to epitomise both the book and the African National Congress (ANC) response to it: the 'coup d'état' nature of Mbeki's ousting, the Chikane argument that there was the 'potential for destabilising the country', and the 'danger of what the ANC has become' – and especially where the origins of organisational decay are situated.
Book details