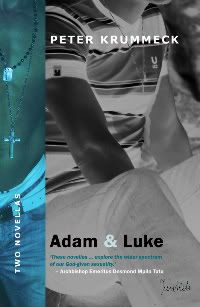 This month, Junkets Publishers releases two novellas by well-known playwright Peter Krummeck under its Gay Junkets imprint. In Adam van Eden and According to Luke, now published under the single title Adam & Luke, Krummeck tackles such sensitive issues as sexual orientation, gender relationships and desire.
Catch Krummeck at this year's Franschhoek Literary Festival (11-13 May) where he'll be in conversation with Richard de Nooy and Mark Behr.
Press release:
Under its Gay Junkets imprint, independent Junkets Publishers is following up the successes it had with Yes, I am! writing by South African gay men and The Young Gay Guys Guide to Safer Gay Sex by announcing the publication of a new book, Adam & Luke by Peter Krummeck.
Under this joint cover-title, the book consists of two separate novellas: Adam van Eden and According to Luke. 'I'm not 100% sure,' says Robin Malan, the publisher, 'but I think these may well be the first two gay novellas to be published in English in South Africa.'
Each of the novellas deals with an older married man's attraction to a younger man, and the conflicted state in which that attraction leaves him. And what is the effect of this on the wife? And the younger man – does anyone take account of his feelings and his desires?
Peter Krummeck's conviction that sexual orientation is not black or white but every shade of grey has found expression in these novellas. In Adam van Eden Krummeck draws on his personal experience of sexual discrimination within the church to highlight the damage inherent in fundamentalist condemnation. According to Luke explores the anguished disruption of a heterosexual marriage. The author says, 'It seems to me that society's approach to gender ranges from complete intolerance of any departure from the patriarchal status quo to total acceptance and integration of gender in all forms of expression.' He was encouraged to follow this line of thinking when working as a lay-minister for the Anglican Church under the mentorship of Archbishop Desmond Tutu in the mid-1980s. Many churches at that time were inclined to 'hate the sin, but love the sinner'. Says Krummeck, 'In typical fashion, Tutu rattled their cages and obliged them to re-think both "love" and "sin".'
Some years back, when asked to write a guide to human gender relationships for the multi-church Parish of St John in Wynberg, Krummeck founded his document on the two most credible research projects in this field, the Kinsey Report and the work by Drs Masters and Johnson. Both reports established that, while around 4% of men eventually settle for an exclusively gay lifestyle, over 60% of adult men voluntarily seek out sex with another man. So the field for bisexual experience and engagement was blown wide open. Peter Krummeck's 1994 teleplay Dear and Awkward Courage, directed by Tamara Semevsky, was the first work openly to address the gay issue on South African television. His award-winning HIV/Aids play iVirgin Boy has as its central character a boy traumatised by male rape. During follow-up counselling, he explores his bisexual nature.
Adam & Luke is to be launched on Friday 11 May 2012 at 5.15 p.m. during the Franschhoek Literary Festival at Ebony, Franschhoek Square, 32 Huguenot Street, Franschhoek. Anyone who would like to receive an invitation to attend the launch should email info.junkets@iafrica.com with the subject-line 'Launch'. Earlier on that Friday, as part of the Franschhoek Literary Festival, Peter Krummeck will join Richard de Nooy and Mark Behr as members of a panel discussing 'Gay writing: niche to mainstream?' This will be chaired by the owner-manager of Junkets Publisher Robin Malan and will take place at 4 p.m. in the Church Hall in Huguenot Street.
To order Adam & Luke, email info.junkets@iafrica.com for details. The book costs R140 plus R30 for p&p.
Ends
Book details