Tributes pour in for sci-fi giant Ray Bradbury, who passed away on Wednesday at the age of 91:
Margaret Atwood celebrates Bradbury's "remarkable scope and influence":
Just three months ago, at the end of February, I was sitting in a bar in the Chicago Hilton, discussing Ray Bradbury. I was staying at the Hilton, and in a moment Bradburian in its weirdness, I had been put into the suite where President Obama saw on TV that he had just won the US presidential election. On that occasion the immense, many-roomed suite must have been full – of family, of security folks, of political staffers – but I was in it all alone, and it was not the best place to be while dwelling on things Bradburian. It was too easy to imagine that there was someone in the next room. Worse, that someone might be my evil twin, or myself at a different age, or it might contain a mirror in which I would cast no reflection. It took some self-control not to go in there and look.

US President Barack Obama says Bradbury has "reshaped our culture and expanded our world":
Barack Obama has paid tribute to the late science fiction author Ray Bradbury, whom the US president said had "reshaped our culture and expanded our world". Bradbury, author of the classic works Fahrenheit 451, Something Wicked This Way Comes, The Martian Chronicles and hundreds of short stories, died on Tuesday in Los Angeles at the age of 91.

Tributes have since been pouring in for the much-loved American writer, and Obama has added his voice to the chorus by saying that "for many Americans, the news of Ray Bradbury's death immediately brought to mind images from his work, imprinted in our minds, often from a young age".
The Guardian has compiled a gallery of photos from the life of Ray Bradbury: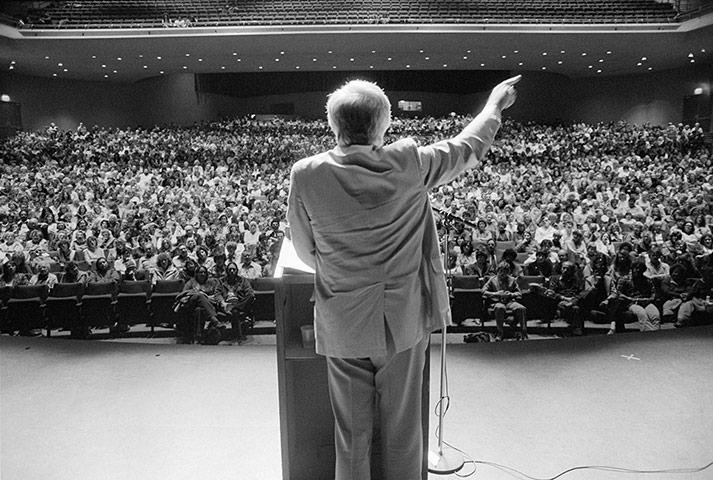 Junot Diaz on "loving Ray Bradbury":
I was speaking of him only yesterday. I was with someone from the American Association of Publishers, my interlocutor and I were talking about how much we loved his work. She mentioned that she had actually visited his home, and I could only mutter, in awe, "He has the greatest mind." No coincidence or presentiment involved in this little conversation. The truth is, for me, and for a whole generation of readers, I'm sure, Bradbury is never far from mind. He was simply too important, too indelible, his imagination too uncanny, his impact on the culture too sustained and profound. Even though he considered himself primarily a fantasist, he (and a few other key writers) snapped science fiction out of its adolescent fugue and helped introduce the genre to a broader audience. He was also the original transmedia franchise, as his fiction was read, performed onstage, and viewed on screens. A prescient lyrical writer with an abiding hatred for intolerance, Bradbury influenced generations of readers and many of our most famous dreamers, from Stephen King to Steven Spielberg.

Video: Bradbury discusses his love for books:

Neil Gaiman remembers Ray Bradbury, his friend:
Yesterday afternoon I was in a studio recording an audiobook version of a short story I had written for Ray Bradbury's 90th birthday. It's a monologue called The Man Who Forgot Ray Bradbury, and was a way of talking about the impact that Ray Bradbury had on me as a boy, and as an adult, and, as far as I could, about what he had done to the world. And I wrote it last year as a love letter and as a thank you and as a birthday present for an author who made me dream, taught me about words and what they could accomplish, and who never let me down as a reader or as a person as I grew up.
Book details
Photo courtesy The New Yorker