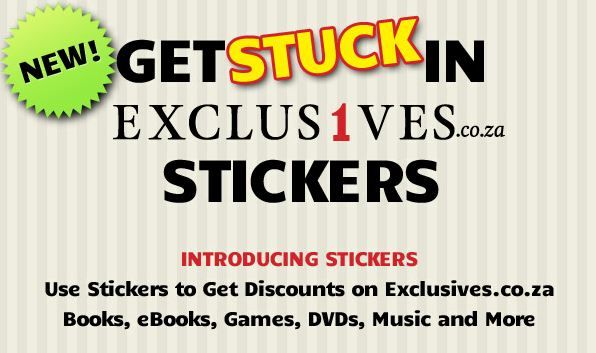 Today, Exclus1ves.co.za debuted a new "social bookselling" platform called Stickers, which it calls "a new way to discover, share and save online".
The development involves a refreshed front page design and a new feature altogether: the "Sticker palette", from which Exclus1ves.co.za users can drag and drop a variety of badges – such as star ratings badges and Twitter sharing badges – to single out the books, ebooks, videos, CDs and games they like the most. Watch the promotional video: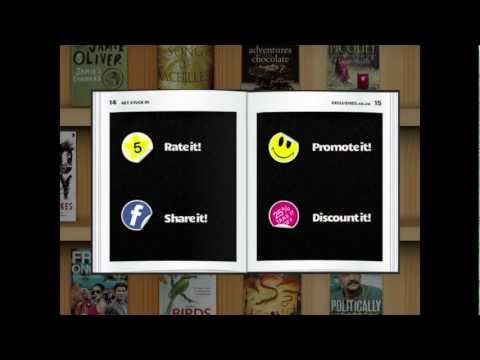 By stickering products, users earn a virtual currency in the form of a Smiley face sticker. By tagging products with their Smileys, in turn, users unlock group discounts for everyone – and by reaching certain levels of Smileys, they receive personal discount stickers for use on hundreds of thousands (millions?) of Exclus1ves.co.za products.
(For example: if 25 users each tag a book with 25 Smileys, it unlocks a 25% discount for everyone, for 24 hours. And if a user earns 300 Smileys, he or she receives a 20% discount sticker to apply to on which ever product he or she chooses.)
Read more on how it works, and the Stickers levels needed to unlock discounts, at the Exclus1ves blog:
Ben Williams, publishing editor at Books LIVE and general manager at Exclus1ves.co.za, conceptualised the Stickers campaign. He recently spoke to Tanya Pampalone for a Mail & Guardian article on the so-called "decline" of the traditional book store:
He showed me Exclusive Books's redeveloped website with "stickers", a new technology using "social bookselling" and "retail gameificiation", where users earn smiley faces, and ultimately discounts, by rating and sharing books. Williams, who has both a BA and a master's in English literature, is unabashed about our digital future.

"I get so annoyed with people who tell me they love the smell of a book," he said. "Get over it. You don't smell the book when you are reading. And for those who tell me they can't take an e-reader into the bath? Please. Put it into a Ziploc bag."
Press release:
Online shoppers can now determine their own discounts on products bought from Exclus1ves.co.za thanks to Stickers, a social bookselling platform that's a first for South Africa. Registered users who visit the site earn a virtual currency, in the shape of smiley-face stickers by rating and sharing their favourite reads and other products. With enough Smileys in the bank, customers receive discount stickers – up to 25% – for instant savings on millions of items in the Exclus1ves.co.za catalogue.
"In essence, Stickers is 'DIY discounting'. Customers who visit our website now get to choose which books, ebooks and other entertainment products are featured and discounted," said Ben Williams, the General Manager for Exclus1ves.co.za.
Applying the discount stickers is easy. Simply drag and drop the sticker on to the book or item being purchased: the discount is applied and the product is added to the checkout list. "Between Stickers discounts and free delivery to our Exclusive Books stores, you won't find the item you choose at a better price," said Williams.
Customers can work in groups to earn discounts faster, teaming up with friends, fellow book club members and colleagues to "spend" Smileys together and trigger rewards. "You want a group discount on the latest bestseller? No problem: get your friends involved and it will happen very quickly. The best part is that discounts triggered by group activity will be available to all Exclus1ves.co.za visitors for 24 hours," said Williams.
The launch phase of Exclus1ves.co.za Stickers is just the beginning: the platform has a lot of potential, in that it can be updated to include seasonal Stickers and even a Stickers store where customers can buy and trade Stickers with special properties.
It's easy to participate in Exclusives Stickers and see what it's all about for yourself: get started at www.exclus1ves.co.za. Happy shopping!
Ends