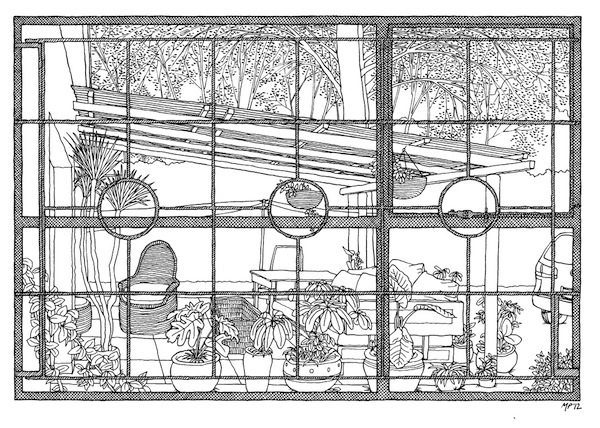 Matteo Pericoli's Windows on the World series has seen him collaborate with some of the world's most interesting literary personalities. The Milan-born artist is the author of The City Out My Window: 63 Views on New York, a collection of illustrations capturing New York as seen through the windows of its residents.
Last year we brought you such venerable views as Nuruddin Farah's Mogadishu and Nadine Gordimer's Johannesburg. Pericoli's latest project is a black and white line drawing of the view from Kenyan author Binyavanga Wainaina's window. In an article in The Paris Review, Wainaina, author of One Day I Will Write About This Place, describes looking out of a small cottage near Ngong Forest in Nairobi:
I have lived in this cramped little cottage near Ngong Forest in Nairobi for the past year. After many winters abroad, I find myself unable to work indoors. Nairobi gets very cold in June and July, but I like to work free of the prison of the house. I love the tingling pullover of night sounds and forest sounds and the bite of cold breeze and distant cars and stereos.
Book details