Iconic South African poet Ingrid Jonker committed suicide on this day in 1965 by drowning herself in the sea at Three Anchor Bay. Jonker is perhaps best known for her haunting poem "Die Kind" ("The Child"), which she wrote in the wake of the Sharpeville Massacre and which Nelson Mandela read at the opening of South Africa's first democratic parliament in 1994. Her tragic life story is recounted in the 2011 film Black Butterflies, named after Jonker's collection of the same name.
On 19 July 1965, Ingrid Jonker, a South African poet, committed suicide by walking into the sea. Jonker was 31 Years old.

The advanced ideas inherent in Ingrid Jonker's poems have made her a recognized literary figure internationally, with her poems being studied, translated and published in many languages including English, German, French, Dutch, Polish, Hindi and Zulu. The collected works of Jonker, including several short stories and a play, were published in 1975 and re-issued in 1983 and 1994.

Much of Jonker's early writing related to the episodes and trauma of her early life. Yet as a mature poet, Jonker never failed to express compassion for her fellow human beings, reflecting a refreshing innocence devoid of pernicious social prejudice and hatred. This seminal Afrikaans language poet sensitively engaged with the cause of the poor and the lot of black South Africans from the position of a common humanity. Jonker's work was condemned by her father, then a leading member of the National Party and the chairperson of the parliamentary committee responsible for the Apartheid system of censorship.
As yesterday was Mandela's 94th Birthday and today the 47th anniversary of Jonker's death, we thought it only fitting to bring you this audio clip of Mandela reading "The Child":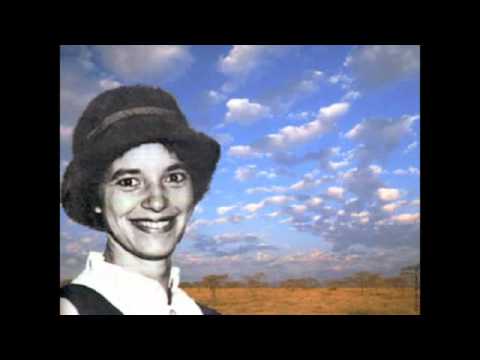 ~ ~ ~
Fellow cultural icons Chris Chameleon and Steve Hofmeyr joined others on Twitter in remembering Jonker. Chameleon, who has released two albums of Jonker's works set to music – Ek Herhaal Jou in 2005 and As Jy Weer Skryf in 2011 – promised to honour her in a show tonight.
Meanwhile, Hofmeyr has cunningly suggested that Jonker invented the "RT" with her 1963 poem "Ek Herhaal Jou" ("I Repeat You"). More from Twitter:
today in 1965 ingrid jonker's beached body was found amongst the sea weed & sand. i will honour her legacy in my show tonight.

— Chris Chameleon (@chrischameleon) July 19, 2012
Ingrid Jonker died today in 1965. youtube.com/watch?v=kPr7gf…

— SA Partridge (@Sapartridge) July 19, 2012
In Memoriam: Ingrid Jonker today. (19 September 1933 – 19 July 1965.) twitter.com/HermLategan/st…

— Herman Lategan (@HermLategan) July 19, 2012
Ingrid Jonker se liggaam gevind by Drieankerbaai gevind 1965. Sy was 31. Graaff-Reinet gestig 1786. Digter Lucas Malan gebore.

— Steve Hofmeyr (@steve_hofmeyr) July 19, 2012
Ek sê mos, Ingrid Jonker het ReTweet ontdek: "ek herhaal jou"

— Steve Hofmeyr (@steve_hofmeyr) July 17, 2012
19 Julie 1965 is Ingrid Jonker se lyk op die strand gevind waar sy in die see in geloop het!haar legende leef steeds voort!#legacy

— Marli du Plessis (@Marleedup) July 19, 2012
Waar ik maar ga ligt een pad voor mij open. Ingrid Jonker

— Woorden Van Waarde (@WoordenvWaarde) July 19, 2012
Ons huldig vandag Ingrid Jonker. Díe merkwaardige digteres is vandag, 47 jaar gelede, oorlede. twitter.com/sariewinkel/st…

— SARIE.com Winkel (@sariewinkel) July 19, 2012
Book details
Photo courtesy Road Travel Africa