It is with great sadness that we acknowledge the passing of South African revolutionary and struggle hero, Neville Alexander. Alexander passed away today, 27 August 2012, at the age of 75 after a long battle with cancer.
Before the news was officially released, fellow writers and intellectuals, including Jonathan Jansen and Max du Preez, paid their respects via Twitter:
One of South Africa's few true revolutionaries just died; activist and intellectual, Dr Neville Alexander

— Jonathan Jansen (@JJ_UFS) August 27, 2012
Neville Alexander was one of the greatest sons of our soil, a man of great integrity & bravery and an unusual intellect

— Max du Preez (@MaxduPreez) August 27, 2012
News24 was the first to report on Alexander's passing:
Cape Town – Former revolutionary and struggle hero Dr Neville Alexander has died at the age of 75, according to reports on Monday.

Alexander, who was imprisoned on Robben Island with Nelson Mandela for 10 years on a charge of conspiracy to commit sabotatge, was best known as a proponent of a multilingual South Africa. He was a co-founder of the National Liberation Front and a director of the South African Committee for Higher Education.
South African History Online (SAHO) has compiled a comprehensive biography of Neville Alexander:
Neville Edward Alexander was the first of six children of Dimbiti Bisho Alexander, a primary-school teacher, and David James Alexander, a carpenter. It was in the rural Eastern Cape that he initially kept a strong anti-White sentiment, nurtured by the idea that all Whites were oppressors, an idea which he inherited from his father. Alexander was introduced to coloured militancy and progressivism at an early age. On the other hand, his mother taught him to respect everyone, in addition to introducing him to Christian values.

At an early age, Alexander learned that his grandmother was not originally from South Africa, but it was only later that he discovered how she ended up there. From Ethiopia in East Africa, former slave Bisho Jarsa (Neville's maternal grandmother) had been freed off the coasts of Yemen to be brought to South Africa as part of an operation aimed at ending the slave trade in the British Empire. Jarsa would later become a teacher at a school in Cradock.
In May 2010, Alexander delivered the fourth Strini Moodley Annual Memorial Lecture at the University of KwaZulu-Natal. Links has made the full text of his address available online:
In her historical novel, A Place of Greater Safety, which is played out against the backdrop of the Great French Revolution through an illuminating character analysis and synthesis of three of that revolution's most prominent personalities, viz., Maximilien Robespierre, Georges-Jacques Danton and Camile Desmoulins, Hilary Mantel imagines the following conversation between Lucile Desmoulins and Danton:

So has the Revolution a philosophy, Lucile wanted to know, has it a future? She dared not ask Robespierre, or he would lecture her for the afternoon on the General Will: or Camile, for fear of a thoughtful and coherent two hours on the development of the Roman republic.

So she asked Danton.

"Oh, I think it has a philosophy", he said seriously. "Grab what you can, and get out while the going's good"

This sentiment, I make bold to say, puts in the bluntest possible way the dominant sense of disillusionment and disbelief that most middle-class South Africans have when they feel compelled to "whine" and complain about where we appear to have landed in post-apartheid South Africa. All the heady hopes which even those who were not in or of the Congress Alliance had in 1994-95 seem to have turned into ash. There are few thinking South Africans today who would be prepared to say that they are happy with how things have turned out.
The following year, Alexander delivered a speech at the the Durban University of Technology's Steve Biko Seminar. Watch a video of his talk, courtesy the Steve Biko Foundation: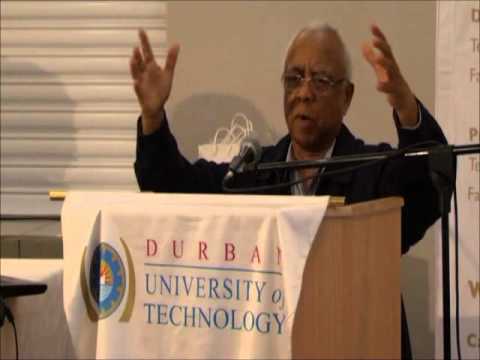 In November last year, Daily Maverick's Khadija Patel spoke to Alexander about the importance of creating and sustaining a multi-cultural South Africa:
In April this year, higher education minister Blade Nzimande raised the ire of many South Africans when he suggested proficiency in an "African" language would be a prerequisite for graduating from higher education institutions. Speaking in isiZulu, Nzimande said: "Akukwazi ukuba yithi kuphela ekuthiwa sifunde isingisi nesibhunu bakwethu, kodwa ezethu iyilimi nabanye bangazifundi [We can't be expected to learn English and Afrikaans, yet they don't learn our languages"]. At the time Nzimande said the development and teaching of African languages in universities was something he was taking up as a special ministerial project. He had appointed a special committee to investigate how to strengthen the teaching and expansion of African languages in universities, which was in serious decline.

One eminent supporter of the thrust of Nzimande's vision is Neville Alexander. For a 75 year old Alexander cuts a spritely figure. He quotes Lenin with the same alacrity as he quotes Bourdieu. Alexander certainly has much to share. His has been the life of a revolutionary, a political prisoner and more recentl;y one of the country's foremost educationists. He has been interrogated at length about his memory of Nelson Mandela on Robben Island, where he was incarcerated for 10 years in the 1960s, but it is his views on language in South Africa today that are particularly relevant to the great language debate.
Books LIVE extends condolences to Alexander's family and friends.
Book details
An Ordinary Country: Issues in the Transition from Apartheid to Democracy in South Africa by Neville Alexander
EAN: 9781869140168
Find this book with BOOK Finder!
Photo courtesy Daily Maverick