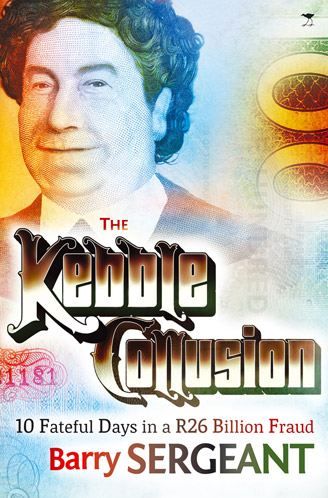 By TJ Strydom for The Times:
Barry Sergeant's new book, The Kebble Collusion, no doubt initiated a few phone calls. Bankers and auditors would have been making the calls, with lawyers answering them.
Where previous books about Brett Kebble put the spotlight on the dark underworld in which the mining tycoon had been involved, Sergeant's text focuses on the boardroom. And not only on the dodgy dealings during Kebble's lifetime; it also sketches a cover-up that followed his murder.
Involved in the cover-up – and probably profiting from it – the book alleges, were Investec, Allan Gray, Gold Fields, KPMG, T-Sec and individuals in expensive suits.
Sergeant and Kebble were friends. Sort of.
Theirs was the kind of friendship enemies sometimes have.
It started with sabre-rattling after Sergeant wrote a research report in the 1990s about Randgold and Exploration and one of its over-valued mining assets in west Africa.
Kebble – and a few of his fellow directors at Randgold – promptly sued Sergeant for defamation, but the case was settled on the steps to the court. After that, Kebble and Sergeant started spending time together. And for nearly a decade, Sergeant got a first-hand look at the high-flying life of South Africa's most charismatic fraudster.
The Kebble Collusion looks at "10 fateful days in a R26-billion fraud".
Sergeant describes Kebble as a skilled operator in politics, business and deception.
It is one of those books in which the narrator is part of the story, but he does little to influence the outcome. Sergeant is like a fan spending a day with his favourite bad-boy athlete, only to realise that his skills and prowess mask a dark demon that only the truly gifted possess.
He uses the 10 days as separate chapters and comes to some shocking conclusions. For an outsider, the book lays out the ties between the Kebble-linked companies JCI, Randgold and Western Areas.
Sergeant explains the deals andthe wheeling and dealing. He also paints a disturbing picture of the destruction Kebble and his cronies left in their wake.
But the volume of information and its detailing gets confusing. It is difficult to say if you can believe the claims he makes about the conduct of Investec, Allan Gray and KPMG after Kebble's death.
"Brett Kebble's warped brilliance attracted all kinds of opportunists," writes Sergeant.
"While he is dead and gone, there remain a good number of individuals who scored heavily from his disturbed genius."
Those include former members of the ANC Youth League. Sergeant outs some of the beneficiaries, claiming Kebble laid the foundations for the conspicuous consumption of later leaders like Julius Malema.
If you've never heard of Kebble, Sergeant's new book is not for you.
Sergeant has spent 15 years gathering the material. Six years ago, he published Brett Kebble: The Inside Story. He plans to write a third instalment.
Book details