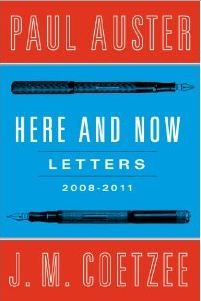 JM Coetzee is this year's recipient of Pennsylvania State University's Institute for the Arts and Humanities (IAH) Medal for Distinguished Achievement. The award, of which the first recipient was Salman Rushdie in 2006, "honors individuals who have made outstanding contributions to the arts and humanities and whose work has furthered public awareness of the importance of scholarship, literature, and the arts".
Coetzee attended a ceremony at the State Theatre to receive his award and give a talk, including readings from two of his upcoming books, both set to be released in March next year. He read two letters from the collection of correspondence between himself and Paul Auster, Here and Now: Letters (2008 – 2011), which was originally published in Dutch as Een manier van vriendschap: Brieven 2008-2011.
Coetzee also read the first chapter from his much-anticipated novel, The Childhood of Jesus.
The University has kindly shared a video of the talk:
&nbsp>
Book details