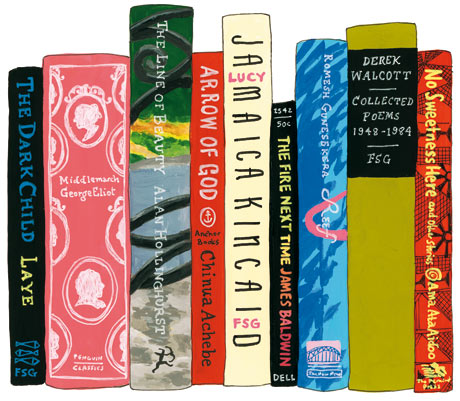 &nbsp>
The Observer has shared an extract from Thessaly la Force and Jane Mount's book, My Ideal Bookshelf, a collection of interviews with 100 creatives accompanied by paintings of their favourite books.
The extract includes Chimamanda Ngozi Adichie's favourite books and the painting of her ideal bookshelf. Adichie spoke about the American and English stories she read growing up, which exposed her to new worlds, and then the "glorious shock of discovery" of reading Chinua Achebe and Camara Laye.
Adichie's ideal bookshelf features Laye's The Dark Child, Achebe's Arrow of God, George Eliot's Middlemarch, The Line of Beauty by Alan Hollinghurst, Lucy by Jamaica Kincaid, The Fire Next Time by James Baldwin, Reef by Romesh Gunesekera, Derek Walcott Collected Poems 1948-1984 and No Sweetness Here by Ama Ata Aidoo.
I grew up in a university town in Nigeria. I was an early reader and, what I read as a young child, were mostly British and American books. I was also an early writer. And when I began to write, at about the age of seven – stories in pencil with crayon illustrations, which my poor mother was obligated to read – I wrote exactly the kinds of stories I was reading.
Book details
Image courtesy The Observer