At the end of last year, Books LIVE brought you a list of half-a-dozen books that we deemed worthy of special mention, rather than simply choosing one author of the year. Building on that tradition, this year we've selected a full dozen titles for our "Best of 2012″ list.
Despite what doomsayers might want you to believe, the publishing industry in South Africa is alive and well. At Books LIVE we came into contact with so many wonderful books this year that compiling a "Best of" list was no mean feat – hence the inclusion of double the amount of titles this time around! (Also, twelve books for the year 2012 has a nice ring to it, doesn't it?)
Although non-fiction books, especially political biographies, probably sell the best in South Africa, books of a fictional cast are our first love at Books LIVE and you'll see this reflected in our picks.
Independent publishers are also close to our heart and Publishing Editor Ben Williams has highlighted two excellent Indie Press titles that deserve praise.
Without further ado, and in no particular order, here are Books LIVE's top twelve books of 2012:
The Institute for Taxi Poetry by Imraan Coovadia
Imraan Coovadia has on occasion suggested that perhaps we do not need novels anymore, but we sure did need his latest, The Institute for Taxi Poetry, on our list.
The tradicomic novel, launched in April this year, is set in a recognisable but richly imagined Cape Town. The protagonist is taxi poet Adam Ravens, employed by the Institute for Taxi Poetry, based at the University of Cape Town, to paint poetry on mini bus taxis. The story starts with the murder of Ravens' mentor, Solly Goldfield, and switches between the cut-throat taxi industry and ivory tower of the university.
In a review for the Mail & Guardian, Percy Zvomuya praised The Institute for Taxi Poetry for attempting to "situate itself firmly in this distinctively South ­African setting". Seeing as the taxi industry is so pervasive in our lives, Karl van Wyk applauded Coovadia in the Sunday Times for introducing it to our literary canon. He also enjoyed the "refreshingly less common road" that Coovadia took "of illuminating his text with humour". In a LitNet review Thando Njovane called the book a "national treasure".
~ ~ ~ ~ ~ ~ ~ ~ ~
Invisible Furies by Michiel Heyns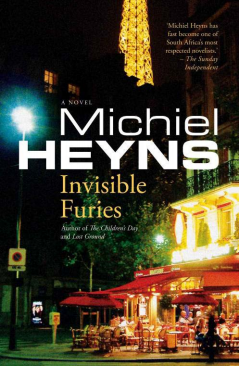 Michiel Heyns, who won the 2012 Sunday Times Fiction Prize for Lost Ground has produced another stellar novel this year, Invisible Furies. Although he might consider himself a dogwalker that occasionally writes novels, Invisible Furies is already his sixth, making Heyns a literary force to be reckoned with.
In Invisible Furies Heyns turns an ironic eye on the most seductive city on earth when protagonist Christopher Turner returns to Paris after 30 years, with deeply ambivalent feelings, to bring his best friend's son home. Heyns, an expert on Henry James, borrowed the plot from James' The Ambassadors. With humour and insight Heyns explores the tensions between the fatherland and a larger world.
Invisible Furies has already received a whole bunch of carrots, indicating reviewers' satisfaction with the publication. Margaret von Klemperer mentioned that "Heyns, like James before him, is adept at exploring below the smoothly finished surface of the old world". Lara Buxbaum called it "a stirring elegy of on lost youth and beauty in all its manifestations".
~ ~ ~ ~ ~ ~ ~ ~ ~
The Great Agony and Pure Laughter of the Gods by Jamala Safari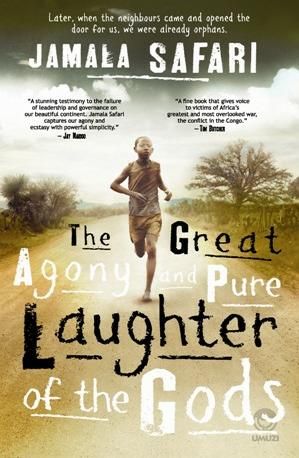 Cape Town-based Congolese writer Jamala Safari has bounded onto the literary scene this year with his impressive debut, The Great Agony and Pure Laughter of the Gods. Shortlisted for the Citizen Book Prize in 2011, the novel is set in the east of the Congo, where Safari grew up, and tells the story of Risto Mahuno who endures more horrors than any 15 year old should. His sweetheart is claimed by the warlord, his cousin killed and Risto flees the country. Although The Great Agony and Pure Laughter of the Gods is fiction it draws on Safari's real journey from the Congo to South Africa. Safari's novel is rich with imagery and, according to him, inspired by the magical realist masters.
At the launch of the book in August, Lauren Beukes emphasised the fact that it avoids the kind of "heavy wading in misery and despair [that] we see on the news". The story contains, "a lot of hope and light and passion and interest and the possibility of redemption," Beukes said.
The Great Agony and Pure Laughter of the Gods has received carrots from reviewers Michele Magwood, Ruth Browne, Annie Gagiano and Don Makatile. It also made it onto Karin Schimke's list of top reads of 2012.
~ ~ ~ ~ ~ ~ ~ ~ ~
The Book of War by James Whyle
PEN Studzinski Award winner James Whyle's first novel, The Book of War, has been met with much acclaim since it was launched in June this year. Rian Malan is quoted as saying, "It is a very good book…Possibly great," on the cover of the book, along with William Kentridge who calls it, "A rare feast". The novel is included in Marguerite Poland and Andrew Donaldson's lists of favourite books of 2012 and received carrots from Jane Rosenthal, WANTED magazine and Charl Blignaut.
The Book of War, a story of a child who comes to manhood in the bloody cauldron of war, draws on first-hand accounts by Stephen Bartlett Lakeman and William Ross King of the so-called 1851 Xhosa Wars in the Cape. Whyle has also revealed that the novel is inspired by Cormac McCarthy's epic Western Blood Meridian.
~ ~ ~ ~ ~ ~ ~ ~ ~
Home Remedies by Diane Awerbuck
Diane Awerbuck's deliciously dark humour sufaces again in her second novel, Home Remedies. The novel is set in Fish Hoek, where the protagonist Joanna Renfield's life is turned upside down when the thousand-year-old skeleton on display at the museum where she works is linked through DNA testing to Saartjie Baartman. With satirical flair, Awerbuck paints the quiet religious suburb with disturbing undertones.
Dawn Garisch has said there is much to recommend in Home Remedies: "A strength of the book is that it does not fall into the trap of political correctness. There is compassion, but there are also no holds barred." Jonathan Amid is also full of praise for the novel, saying: "Awerbuck is adept at creating a dialogue with the reader through the novel form, utilising the fallibility, vulnerability and authenticity of her characters to allow readers to identify various parts of their own consciousness, ways of being, dreams, fears, hopes and ideals."
The novel was launched in November, in time to make it onto our "Best of 2012″ list, as well as those of Tymon Smith and Sarah Lotz and Kalk Bay Books.
~ ~ ~ ~ ~ ~ ~ ~ ~
Die aanspraak van lewende wesens deur Ingrid Winterbach
Die manuskrip van Ingrid Winterbach se nuutste roman, Die aanspraak van lewende wesens, het NB-uitgewers se Groot Romanwedstryd gewen en ons vermoed dat dit nie die laaste prys is wat Winterbach met die boek sal inpalm nie.
By die bekendstelling van die boek in Oktober het Winterbach verduidelik dat die roman voortgedryf word deur twee parallele reise wat die karakters Karl en Maria onderneem, onderskeidelik op soek na die oorsake van 'n broer en 'n suster se ondergang. Die reise is ook 'n soeke na begrip van die mistieke en 'n konfrontasie met gestorwenes. Die reise eindig by 'n vreemde stadsplaas waar Winterbach se wrang ironie 'n hoogtepunt bereik.
Christell Stander meen in haar resensie van Die aanspraak van lewende wesens dat hierdie roman "'n verdere stap in die rigting van toeganklikheid in die Winterbach-oeuvre" merk. "Narratiewe lyne is duideliker gedefinieer en die knoop is sterk ontwikkel. Tog word daar niks van die liriese digtheid prysgegee waarmee haar tekste ons blik op die wêreld help intensifiseer nie".
Joan Hambidge noem dit 'n briljante roman. "Binne 'n bestek van bykans drie dekades het Winterbach haar gevestig as een van die belangrikste romanskrywers van ons tyd," skryf sy.
~ ~ ~ ~ ~ ~ ~ ~ ~ ~
Katalekte deur Breyten Breytenbach
Die verskyning van 'n nuwe digbundel deur Breyten Breytenbach, een van die grootste lewende Afrikaanse digters, is altyd opwindend. Boonop rond Katalekte: Artefakte vir die stadige gebruike van doodgaan 'n drieluik bundels af wat begin het met Die Windvanger en Die beginsel van stof.
Breytenbach vind steeds eiesoortige kreatiewe maniere om die taal aan te wend in sy twintigste digbundel. Hy het 'n "verbysterende vermoë om steeds met nuwe metafore vorendag te kom en om taal op verskillende maniere te manipuleer tot segging" sê Louise Viljoen.
Afskeid, verganklikheid en die dood is temas in Katalekte, maar daar is ook 'n viering van lewe en van die liefde in die bundel. "Dat daar in een bundel sulke uiteenlopende teneure en registers feitlik skouer aan skouer te vinde is in gedigte van dieselfde hand, getuig van 'n meesterlike beheer oor sulke uiteenlopende materiaal," meen Helize van Vuuren. Twintig afbeeldings in kleur rond hierdie lywige boek van 212 bladsye af.
~ ~ ~ ~ ~ ~ ~ ~ ~
Endings and Beginnings by Redi Tlhabi
The only non-fiction book on our list is Redi Tlhabi's captivating memoir, Endings and Beginnings, which actually reads like a novel.
The extremely talented Tlhabi, a Talk Radio 702 presenter who recently launched a show on the Al Jazeera television network, made it onto Forbes Magazine's list of "20 Youngest Power Women In Africa 2012″. Since the launch of Endings and Beginnings in November this year she can also add published author to her list of accomplishments. And an accomplishment this book definitely is!
In Endings and Beginnings Tlhabi recalls how, after her father was murdered when she was just a child, she developed a strong connection with a rumoured gangster, murderer and rapist, Mabegzo. Through deep emotional conversations with his family and those who knew him, Tlhabi tries to piece together the puzzle of Mabegzo and what drew her to him. She also addresses the need for healing in violence-stricken communities in general and the fear of sexual abuse that especially women and children experience in the townships.
~ ~ ~ ~ ~ ~ ~ ~ ~
The Garden of Evening Mists by Tan Twan Eng
Cape Town-based writer Tan Twan Eng's The Garden of Evening Mists makes our list for the great achievement of being shortlisted for the Man Booker Prize and longlisted for the Man Asian Prize this year. This book also made Tymon Smith and Karin Schimke's lists of top picks for 2012.
The protagonist Yun Ling Teoh is a survivor of a brutal Japanese prisoner of war camp, but despite her hatred of the japanese, finds herself drawn to the only Japanese garden in Malaya. She becomes the creator of the garden's apprentice with the hopes of eventually creating a garden in Kuala Lumpur, in memory of her sister who died in the camp.
International acclaim followed the book's launch in May, with Boyd Tonkin of The Independent UK calling it "tantalisingly evocative" and "suffused with a satisfying richness of colour and character" and Dominique Browning of The New York Times saying, "This is a thoughtful and beautifully written novel, one to treasure despite, or because of, its austerity".
~ ~ ~ ~ ~ ~ ~ ~ ~
Andre Brink's Philida, launched in September, was a news maker this year. It was shortlisted for the prestigious 2012 Man Booker Prize, earning it a spot on our list.
Some reviewers have focuses on the controversy surrounding Brink receiving the Jan Rabie Marjorie Wallace bursary to write this novel, when many believe that it should have gone to a less established writer in need on financial support. Brink drew the focus back to the controversy himself by poking fun at his critics in Philida. This soured the reception of the novel somewhat.
However, in his review for SLiPNet, Willie Burger addressed "those Brink readers who are inclined to be doubtful (most of them South African critics)", advising them to pay due attention to Philida, "because it is a well-crafted and thought-provoking novel that offers important new insights, as well as corrective perspectives in relation to some of Brink's previous novels". In Philida, Burger says, one can "enjoy Brink in full flight as a master of storytelling".
Internationally, Philida received many good reviews, including one by Alex Clark for The Guardian, in which the book is called a "compelling and memorable novel".
Brink's 24th novel is based on the life of a real slave woman named Philida who lived and worked on the farm Zandvliet in the 1830′s. She had several children with her employer's son, but the boss decided to marry his son to a wealthy woman and sell Philida and her children. Philida rebels and walks all the way to Cape Town to lay a complaint against the man.
Patrick Flanery, author of the acclaimed Absolution, described Philida in The Telegraph as a "moving story of one woman's struggle against hierarchies of race and gender that seek her absolute subjugation".
~ ~ ~ ~ ~ ~ ~ ~ ~
PICK OF THE INDIE PRESSES
Kelwyn Sole, winner of the 2012 Thomas Pringle Award for Poetry, launched his latest poetry collection, Absent Tongues, in May this year.
Published by Hands-on Books, an imprint of Modjaji Books, the collection explores the relation between the personal and political. "Sole is still prodding the nation's conscience," Liesl Jobson said in a review on Gorry Bowes Taylor's blog. She finds Sole's images "a constant delight" and his humor sometimes "dry as ash" and at other times "laugh aloud funny".
In a review for SLiPNet, John Eppel called Absent Tongues a "superb collection of poems" and "a significant contribution to the literature of South Africa".
* * *
Best of Donga edited by Alan Finlay and Paul Wessels
Donga was a online literary zine which published work by Lauren Beukes, Robert Berold, Joan Metelerkamp, Kelwyn Sole, Aryan Kaganof, Toast Coetzer, Ivan Vladislavic, Lesego Rampolokeng and others, from 2000 to 2003.
This year saw the release of a compilation from the website, The Best of Donga, compiled by Alan Finlay and Paul Wessels and published by BLeKSEM in association with Dye Hard Press and Botsotso.
Books LIVE Publishing Editor Ben Williams attended the launch and was impressed.
Book details
eBook options – Download now!
---
eBook options – Download now!
---
eBook options – Download now!
---
eBook options – Download now!
---
Image courtesy Mission Althoughts