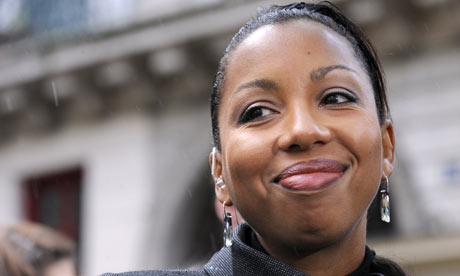 The Man Booker International Prize finalists, ten of them, were announced yesterday at a ceremony held at the Jaipur Literature Festival. Marie NDiaye, of French and Senegalese parentage, is one of the ten finalists.
She writes of Senegalese women in transit – emotional and physical – in the novel that's now been released in English as Three Strong Women. In French it is Trois Femmes Puissantes, and won the Prix Goncourt in 2009. Little known outside of France, where she is a star within the literary scene, her debut in the English-speaking world has been well-received with Kirkus Reviews giving it a strong recommendation.
The Man Booker International Prize is awarded for the consideration of a body of work, not just a particular book. The winner of the £60,000 prize will be announced on 22 May in London.
Anyone who could have guessed even five of the 10 novelists who have just been revealed as the finalists for the fifth Man Booker International Prize deserves a mass cap-doffing from the wider reading public. The previous incarnations of the prize have included a large cluster of well-known and indeed expected names, from Doris Lessing and Milan Kundera to Amos Oz and Joyce Carol Oates. There is, however, nothing familiar or expected about the list unveiled today by the chair of judges Sir Christopher Ricks at the DSC Jaipur Literary Festival.
Book details
Image courtesy The Guardian