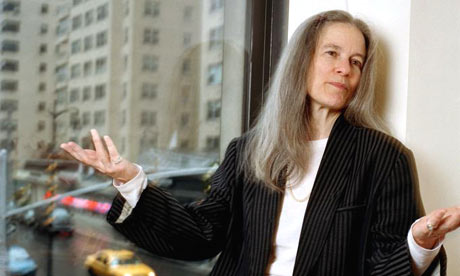 Christina Patterson from The Independent has written about the tradition of confessional poetry in light of Sharon Olds winning the TS Eliot Prize for Poetry for her most recent collection, Stag's Leap.
Patterson writes that although Olds' poetry is very much her own, it is also written within the tradition of confessional poetry. Patterson mentions Robert Lowell's collection Life Studies, written in 1959, as the first work to be referred to as "confessional". In a review of one of Olds earlier works the poet Glyn Maxwell said that it was "the sound the confessional hordes have been trying to utter since Lowell."
"Now I come to look at love," says Sharon Olds, "in a new way, now that I know I'm not/ standing in its light." She says this in her poem "Unspeakable", in her collection Stag's Leap, which last week won the T S Eliot prize for poetry. It's just one poem in a whole book of poems which speak of the agony of lost love. The collection starts with the moment the man she has been married to for 35 years, whose love, she says, made her look "out at the world as if from inside/ a profound dwelling", tells her that his love has died.

It continues through the days, and weeks, that follow: in the conversations about "when to tell the kids", in the speech she has prepared for her mother, in the "last look" and the "last hour". And everywhere, there's the pain, and the shame. "If I pass a mirror," she says in her poem "Known to be left", "I turn away, I do not want to look at her, and she does not want to be seen." It's clear, and it's sharp, and it's forensic in its detail, and it's lyrical, and it's beautiful, and it's devastating. You can't be human and read these poems and not sometimes hear yourself gasp.
Book details
Image courtesy the Guardian