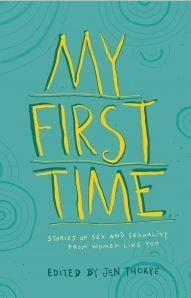 WANTED talked to Jen Thorpe about the concept of My First Time, which she edited.
Thorpe said there was so much secrecy about sex and relationships that in 2010 she thought it was time to compile stories from women about their experiences. With a list of Southern African contributors, My First Time deals with views on sex and sexuality, from a group of fifteen diverse voices. She feels women and gender rights have been pushed into the background and that they have not been at the forefront of emancipation dialogue. She feels the book is a door-opener for conversation, and can perhaps put more of a spotlight on gender-based violence.
Thorpe edits blog posts on life experiences at myfirsttimesa.com, where she says over 200 posts are already up.
Watch the video:
The book has also been featured in articles in the Sunday Times and on Women24:
TELLING MY MOM ABOUT ASSAULT NEVER FORGOTTEN

WHEN it happened, I didn't think much of it. I was drunk and we kissed, and then it was more and I said "no", asked him to stop, cried. He held me down with his knees and forced his penis into my mouth.
"It happened shortly after my 12th birthday. He was a good family friend – I had met him when I was nine years old. The day he started sexually abusing me was pretty ordinary, he came to pick me up from school as he sometimes did with permission from my mother.
Book details