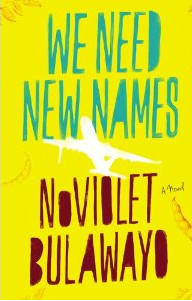 Granta has published an excerpt from We Need New Names by Zimbabwean author NoViolet Bulawayo. She won the Caine Prize for African Writing in 2011 for her short story "Hitting Budapest" and this will be her debut novel.
We Need new Names is set to be published by Chatto & Windus this year and in anticipation of the release Bulawayo has been included on several lists of writers to watch in 2013.
Read the excerpt:
Okay, it's like this. China is a red devil looking for people to eat so it can grow fat and strong. Now we have to decide if it actually breaks into people's homes or just ambushes them in the forest, Godknows says.

That doesn't even make sense. Why does it need to grow fat and strong if it's a devil? Isn't it all that already? I say.
Book details
Image courtesy Granta