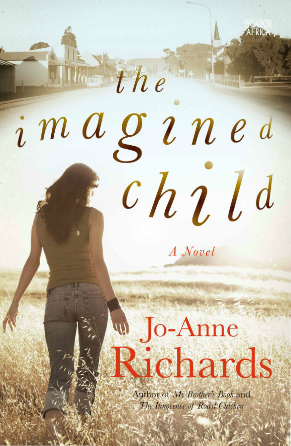 By Kate Sidley for the Sunday Times
Jo-Anne Richards explores guilt, blame and parenting in her moving new novel, writes Kate Sidley.
Jo-Anne Richards was blessed – and perhaps burdened – by early success. Her first book, The Innocence of Roast Chicken, topped the local bestseller list for months, and went on to be well reviewed internationally. More than 27000 copies were sold – big numbers for a South African book.
"It was really exciting and also quite a shock," says Richards. "There are downsides. When you are popular, you have to get over the view that you are too populist. You might be accessible, but you are a serious writer who deals with serious issues. And having a successful first book does put pressure on you. With every book since, I'm trying to write a better book."
She might have succeeded with her fifth novel, The Imagined Child. In it, Odette leaves Joburg and a failed relationship for a simpler life in a small Free State town. But the town has its own secrets and mysteries, just as Odette does, and she is caught up in two deaths – a brutal farm murder and the death of a baby, in which her own daughter Mandy might be implicated.
Richards's novels have a strong sense of place, and this small town is drawn in detail. Richards is a journalist at heart and has drawn texture and details and even attitudes from her own experience of weekends spent in Vrede. "Odette attempts to run away to something simpler, but a small town is never simple," she says. "If anything, the fault lines are closer to the surface and divisions are easier to see than in a big city."
Indeed, there's a menacing feel to the setting, despite the lovely views and the ostensibly friendly townsfolk. Issues of integration, racism and crime simmer below the surface. It is not a "political" novel, though, Richards says: "I'm not a prescriptive writer. I explore, I dig into people, their motivations, the way we are as a society, and hopefully readers can work things out for themselves."
The novel deals with damage – in individuals and in relationships. Says Richards: "I always start with a little fascination worrying in my brain. In this case I was thinking about how we are all formed by our primary relationships. We are all damaged, both genetically – for instance, you might have bad eyesight – and in the way we are brought up. The way we deal with that determines the kind of adults we are and the kind of parents we become. There's a lot of blame and guilt, but it's kind of irrational, because our parents are equally damaged. Part of being human, and adult, is how we forgive them.
"We have a similar relationship with the country. It stands in both a parental relationship and a child relationship – it formed us, damaged us, but equally we created it in the form it is now and bear responsibility. We have a lot of blame and guilt, too, in South Africa. So I was playing with those ideas."
But it's in issues around motherhood and guilt that the novel is most moving, and where its power lies. Richards uses the "problem" child to examine hard-to-talk-about issues of parenting. "It allowed me to play more deeply with the sense of guilt and responsibility that we all have as parents. The normal but hard-to-face feelings that all mothers have are more extreme when there's a child that has a problem. I wanted to show that motherhood is not a simple thing – it's intensely protective but there are also these aspects that are difficult to deal with."
Richards's style shows the detailed eye and ear of a journalist, as well as the technical savvy of someone who has studied and taught creative writing. In addition to teaching journalism at the University of the Witwatersrand, she and a partner run creative writing courses. "Designing the courses, researching, reading, has helped me enormously in my own writing. It has made me look at my writing more critically. One always builds on one's last book, and I hope this one shows some of the things that I've learnt."
Certainly, the structure is interesting. The narrative about Odette and her interactions is interwoven with the "morning papers" that she writes, reluctantly, on the advice of her psychologist, and by the development of the script that she is writing in her day job on a local soapie.
"My protagonist was quite hard to write," says Richards. "She is a complex person and she doesn't admit to things. I wanted the reader to pick up on things about her that she hasn't picked up on yet herself.
"It's odd that some of my characters are so closed, so dark. I'd describe myself as a bit of a Pollyanna – optimistic, sensitive, all my emotions leap out of me."
Perhaps it is this side of her that comes to the fore in the dashes of wry humour that give complexity to the protagonist and lightness and contrast to a book that deals with serious issues.
Book details