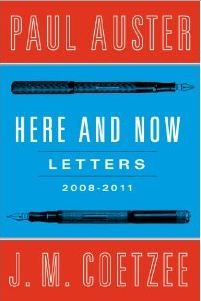 By Richard Poplak for The Times
And so the Prince of Darkness strides into the light. The previously inscrutable JM Coetzee – who refuses to give interviews and fled to Adelaide, Australia – is suddenly as splayed and scrutinised as a Playboy bunny.
First, JC Kannemeyer's biography, A Life in Writing, informed us that the Nobel laureate is a prankster and a garrulous (if vegetarian) dinner companion.
Now there's Here and Now: Letters 2008-2011, an epistolary showdown between Coetzee and fellow novelist Paul Auster.
What's next – daily V-blog updates?
At first consideration, Auster versus Coetzee seems like an odd match-up.
Imagine the fireworks that a postmodernist greybeard like Martin Amis could have generated sparking against the legendary Coetzee flint. Few acolytes have forgotten Amis's pronouncement: "His whole style is predicated on transmitting absolutely no pleasure." What I wouldn't pay to read Amis and Coetzee lobbing intellectual ballistic missiles at each other across the continents.
Instead, we get Auster, who is content to participate in a genteel mutual appreciation society. As Coetzee puts it: "The best and most lasting friendships are based on admiration". And it turns out there is great pleasure to be had in reading two giants agreeing on everything from sports to the financial meltdown to the wisdom of not punching out a critic. The subtitle could easily have read Chicken Soup for the Postmodernist Soul.
For all the shared comfort and love, theirs is not an old friendship – the first letter, from Coetzee to Auster, is dated July 14-15 2008, only months after they met at an Australian literary festival.
Both men are steeped in Beckett and Kafka. Both have met with unimaginable success, and Auster's New York Trilogy enjoyed the sort of sales figures usually associated with John Grisham. Both claim to be happily married, both experienced tragedies regarding their children, neither subscribe to Norman Mailer's f**k-or-fight school of aprés le travail entertainment.
Both are also ageing men. Writes Coetzee: "As regards your sense that you are and perhaps have for a while been writing an obituary of your own times and your own life, let me mention that I recently heard about a burgeoning field in terminal care: The dying person is assisted by a professionally trained counsellor to record their reflections on their own life – achievements, regrets, reminiscences, the works – which are then tastefully packaged (CD, bound print-out) and passed on to the surviving family."
It seems unnatural that authors of such stature would struggle with their legacies, but Auster, in particular, has come under heavy critical fire of late, most notably from James Wood at the New Yorker, who in 2009 described him as a writer who "does nothing with cliche except use it". The review was so harsh that Coetzee was compelled to send Auster's wife an e-mail, whereas the rest of the correspondence was sent by snail or fax.
For those of us who have been reading both authors for years, it comes as a surprise to read of their lingering first novelist insecurities.
"I have stopped reading reviews of my books," writes Auster, "whether good or bad, but I heard enough about what [Wood] wrote from others to feel as if I had been mugged by a stranger."
These writers are terrifyingly erudite – and, at times, charmingly out of touch.
"The discourse of dining and cuisine," writes Coetzee, "has expanded massively to the point where there are entire magazines devoted to it."
On the 2008 financial crash, their correspondence reads like a bong-fuelled dorm room conversation. It isn't embarrassing – it simply reminds us that even literary heroes have blind spots.
Book details