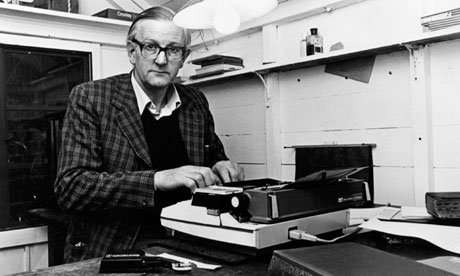 &nbsp>
British humourist Tom Sharpe, who lived in South Africa from 1951 until 1961, has passed away at the age of 85, reports Belinda Goldsmith for Business Day. Sharpe's 1971 debut novel, Riotous Assembly, "lampoons South Africa's apartheid system and the police", as does its sequel Indecent Exposure. In 2010 Sharpe commented that "he did not set out to be a comic writer but wanted his first novel to attack the apartheid regime in South Africa, where he lived for 10 years before being expelled for sedition in 1961."
British comic novelist Tom Sharpe, known for his Wilt series about a harassed and henpecked university lecturer, has died aged 85, his publisher said on Thursday.

The London-born author, whose last and 16th novel The Wilt Inheritance was published in 2010, died in Spain where he had a home in the northeastern coastal town of Llafranc.
Stanley Reynolds from The Guardian wrote an obituary for Sharpe and explains how a political play that he wrote, called The South Africans, drew the attention of the Bureau of State Security, who deported him back to England. Reynolds writes that the idea for Riotous Assembly, "came from hearing about the old-fashioned English colonial aunt of a friend of his who lived near the police station and complained that the screams of tortured prisoners disturbed her afternoon naps." The book was dedicated to "the South African police force whose lives are dedicated to the preservation of western civilisation in southern Africa".
Sharpe's later work "proved that he was a true comic novelist in the great English tradition", with his series of novels about Henry Wilt being perhaps his most popular works.
Tom Sharpe, who has died aged 85, was in the great tradition of English comic novelists and his bawdy style and vulgar approach were said to have made bad taste into an art form – like "PG Wodehouse on acid", in the words of one critic. Sharpe did not start writing comic novels until 1971, when he was 43, but once he got going he gained a large readership. He was a huge bestseller whose hardback editions sold like most authors only sell in paperback.
Book details
Image courtesy The Guardian