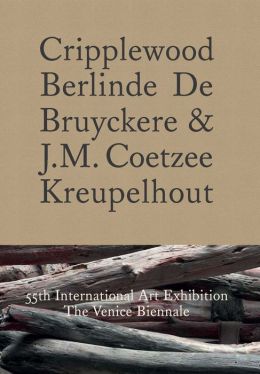 Die wêreldbekende Suid-Afrikaanse skrywer JM Coetzee tree tans as die kurator van Belgiese beeldhouer Berlinde de Bruyckere se uitstalling by die 55ste internasionale Venesiese Biënnale op.
Berlinde de Bruyckere het Coetzee genader vir 'n teks om haar werk te inspireer en hy het die kortverhaal "The Old Woman and the Cats" aan haar gestuur. Die kortverhaal verskyn ook in Cripplewood / Kreupelhout, 'n katalogus wat saamgestel is om die uitstalling te vergesel.
Die Burger se Kirby van der Merwe het met De Bruyckere gesels oor haar beeldhouwerk en die rol wat Coetzee in die huidige uitstalling gespeel het.
Jy sien eers net 'n groot, dreigende vorm totdat jou oë gewoond raak aan die donker.

Dit is 'n reusagtige dooie boom wat lyk asof dit op dié plek omgeval het.

Die Venesiese Biënnale het pas geopen vir joernaliste en ek gesels met die Belgiese beeldhouer Berlinde de Bruyckere in 'n hoek van haar uitstalling.

Die boom is die produk van haar samewerking met die skrywer J.M. Coetzee, Suid-Afrika se uitgeweke Nobelpryswenner.
Boekbesonderhede