On Friday, Can Themba was remembered in Pretoria at the State Theatre. It would have been his 90th birthday. At the event, Nobel laureate Nadine Gordimer gave an appreciation speech. Academic and author Mbulelo Mzamane, and author and Director of the Press Council Joe Thloloe, were the other guest speakers.
Yvonne Themba, the youngest child of this legendary Drum writer, said, "it would have been his greatest birthday ever." Siphiwo Mahala reports that the literati was out in numbers. The audience of 400 included Njabulo Ndebele, Kole Omotoso, Yewande Omotoso, Niq Mhlongo, Muxe Nkondo, etc.
This year also marks the 50th anniversary of Themba's most famous story, "The Suit".
Following the memorial lecture, Mbulelo Mzamane was interviewed on SABC's Morning Live about Themba's life and work: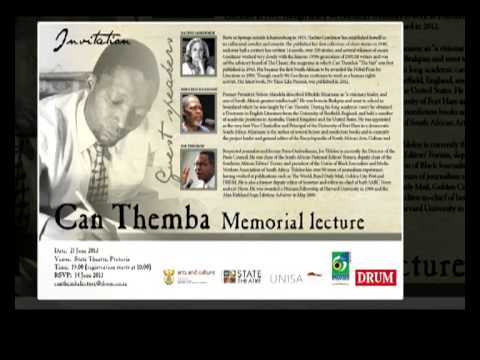 Here's Gordimer's full speech:
Nadine Gordimer's Tribute to Can Themba by Books LIVE
Book details