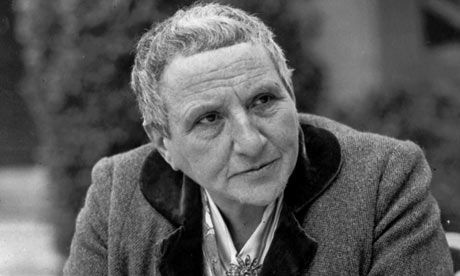 Famous author, critic and playwright Gertrude Stein's home on the Left Bank of Paris became refuge to many an American writer visiting the capitol of France. Stein emigrated from Oakland, California to Paris in 1903 when she was 29 and fell in love with all things French. She became mentor and critic to some of America's finest writers like Ernest Hemingway and Ezra Pound. Frequent Saturday night gatherings (or "salons" as they were often called) at her home with many artists, writers and thinkers in attendance testify to Stein's influence on her peers.
In a piece for The New Yorker Adam Gopnik writes about how Stein in her famous work Paris France not only shares her view on Paris and its people, but also of how Stein is telling a lot about herself and of "her times that is about who Americans are and what Americans think when they are not in Paris at all."
Gopnik also describes the large influence Stein had on modern American literature by way of her close friendship with and mentorship of Ernest Hemmingway. He quotes artist Pablo Picasso who said that "Stein did it first and Hemingway did it pretty".
Later in the piece Gopnik sets out to describe Stein's unique writing style, which he calls "Steinese". He writes that he is awed by "the truth of her observations, and are still astonished by the beautiful bluntness with which they're stated."
Gertrude Stein's "Paris France" is a book about Paris that tells many true things about the French but also gives a picture of Gertrude and her times that is about who Americans are and what Americans think when they are not in Paris at all. It is a picture of Paris by an American who thinks as Americans think, and we see America in the picture when she thinks she is showing us France. Yet because she is a fine and true writer she knows that she is showing us both things, and many truths about the French come out even though they are written the way an American must write them. This is because the writing is clear and the ideas are based on things seen rather than on what she has read about in books about Paris written by an old aunt or a magazine writer who has lived there for a few years and is excited to think he now understands it all.
Book details
Image courtesy of The Guardian.