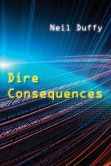 By Neil Duffy
Murder, extortion, corruption, fraud, robbery and the like, will always be with us. They are the enduring but less lovable side of human nature. What has changed is the increasing use of the Internet and other communications networks, by criminals. This makes crime more complicated and more high tech. Many people have fallen victim to ATM, Internet banking, 419, and the more recent cellphone scams.
Instead of entering a building through a forced window or door, it is now possible to enter the victim's bank accounts through a keyboard or touchpad. The advantages of cybercrime are obvious: there is less physical danger to the intruder, less risk of being caught, rewards are not limited by the contents of the building and the victim can be anywhere in the world. Indeed, the launching point could be a little village in Uzbekistan.
On a single day recently my morning paper reported that some US government weapons systems designs, Facebook profiles, MTN and SAPS had been hacked. Cybercrime, cyber-espionage and cyber-warfare have become personal, organisational and societal threats with an increasing impact at all of these levels.
Unlike its big brother, crime fiction, cybercrime fiction virtually does not exist. A recent search in Amazon Books on the keywords crime fiction produced 129,079 hits. The cybercrime fiction category, in which my book is located, delivered 50 hits only.
While one would not expect a new field such as cybercrime to have spawned anything like as many books as an established genre like crime fiction, this discrepancy took my breath away. I can think of many excuses for the non-writers: unfamiliarity with the Internet and related technologies, the relative lack of established law enforcement agencies and investigative procedures, and the absence of a savvy and dedicated readership.
On the other hand the opportunities and challenges for new cybercrime writers are many: Examples include protagonists who carry smartphones and laptops instead of guns and knives; criminals who may live on the other side of the world; and very different investigative techniques.
The question remains: whatever happened to cybercrime fiction? Hopefully it's just a slow starter. We cannot not write about such an interesting and important part of our lives. We cannot leave it to TV to trot out the obligatory beautiful female or eccentric male hacker, who can instantaneously access any database on the planet. Here's looking forward to new and interesting characters and plots.
~~~~~~~
Neil Duffy is a cybercrime fiction writer. His new book is Dire Consequences:
About the book
After serving a three-year sentence in juvenile detention for hacking corporate computer systems, including those of notorious crime boss Jack Duvaldi, Ethan Scott emerges from his education as a twenty-five-year-old job seeker with a criminal record. Starting his own security firm, he is soon employed by South African mining magnate Bob Duncan to investigate suspected cyber-attacks on the Duncan Corporation's computer systems. With the help of Duncan's IT executive niece, Katherine Trevett, Ethan uncovers a Duvaldi mole in the Duncan Corporation. However, when Ethan and Kat go to New York to uncover more information, they soon find themselves face-to-face with the man himself. Ethan must find a way to stop Duvaldi once and for all, no matter the cost. With gang wars, kidnappings, and fierce shootouts on the horizon, Ethan and Kat have to stay one step ahead of the game while keeping one foot out of the grave.
Dire Consequences is a gripping new technology thriller that dives right into criminal fiction head on. Packed with larger-than-life characters embroiled in a tense, globe-trotting conflict, this exhilarating novel by Neil Duffy will captivate readers with a delightfully over-the-top experience. In an exciting tale of organized crime and corruption, Ethan must confront danger head on while attempting to manage his budding relationship with Kat.
Set between Johannesburg, New York, and the Greek island of Naxos, Dire Consequences takes readers on an enthralling adventure across the globe. Utilizing a unique blend of characters, the novel features a protagonist who fights crime with a laptop and smartphone instead of a Glock or Beretta, and a female lead who is the heiress to a multinational corporation but can also take down New York City thugs in unarmed combat. A truly unique entry into criminal fiction, this fantastic thriller will keep readers hooked until the very last page…and then some.
About the author
Neil Duffy has been a private sector manager and academic at a South African business school. He has co-authored management textbooks and numerous academic articles, but Dire Consequences is his debut novel. Duffy currently lives with his wife in Johannesburg, where he is near his two sons and their families while keeping in constant contact with his daughter in Germany.
Book details