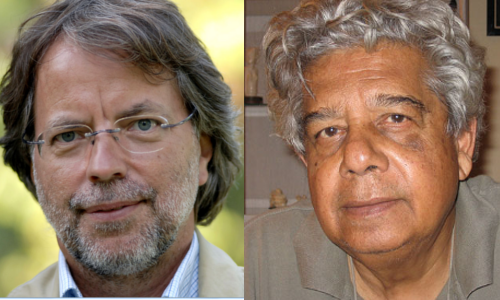 Alert! Mozambican author Mia Couto and Mauritian author Edouard Maunick are included in the shortlist for the prestigious Neustadt International Prize 2014, often compared to the Nobel Prize.
It is the first time in the Prize's 44 year history that authors from both of these countries have been nominated and writers from Palestine and Ukraine also make their first appearance on the shortlist. Couto is nominated by Gabriella Ghermandi, and his representative work is his novel Sleepwalking Land (2006), originally published as Terra Sonâmbula (1992). Maunick is nominated by Ananda Devi, and his representative work is the poetry collection Mandéla mort et vif, first published in 1987 and translated into English as Mandela dead and alive 1976–2001 by South African publishers Protea Boekhuis in 2001.
Couto and Maunick will compete for the $50,000 prize with Haruki Murakami, César Aira, Duong Thu Huong, Edward P. Jones, Ilya Kaminsky, Chang-rae Lee and Ghassan Zaqtan. The winner will be announced on 1 November.
World Literature Today, the University of Oklahoma's award-winning international literature and culture magazine, today announced the shortlist of nominees for the 2014 Neustadt International Prize for Literature. The Neustadt Prize is the most prestigious international literary award given in the United States, often cited as "the American Nobel," and is chosen solely on the basis of literary merit. On this year's shortlist are César Aira, Mia Couto, Duong Thu Huong, Edward P. Jones, Ilya Kaminsky, Chang-rae Lee, Edouard Maunick, Haruki Murakami, and Ghassan Zaqtan. For the first time ever, authors have been nominated from Mauritius, Mozambique, Palestine and Ukraine. Additionally, Jones is the first male African American writer to be nominated in the 44-year history of the prize.
Book details