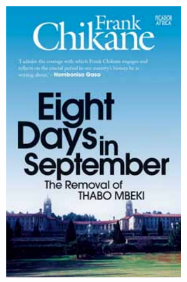 Alert! Frank Chikane has won this year's Nielsen Booksellers Choice Award, for his account of the behind-the-scenes manoeuvring (read: shoving) that saw president Thabo Mbeki removed from his high position in 2008.
Chikane was announced as the winner at the Sefika Awards dinner tonight – the annual gathering of the South African Booksellers Association (SABA) and the Publishers Association of South Africa (PASA). Chosen by the members of SABA, Chikane's book came out on top of a shortlist of eight.
It was the thirteenth edition of the award, which is worth R20 000 to the winner. Last year's winner was Deon Meyer, for 7 Dae.
Various industry members also received accolades for their contributions to publishing and bookselling in the past year, including Books LIVE member Pan Macmillan, for "exceptional service as a general trade publisher". Perhaps not coincidentally, Pan Macmillan published Frank Chikane's book. See the press release below for the complete list of winners on the night.
Congratulations to Chikane and Pan Macmillan! Here's the winning book's blurb:
A riveting, behind-the-scenes account of the removal of Thabo Mbeki as President of South Africa, which examines the build-up to events, describes the details of those eight days in September 2008 and explores Mbeki's legacy. Eight Days in September refers to the eight-day period in September 2008 when Thabo Mbeki was removed from office as the President of South Africa.

At the time, Frank Chikane was Secretary of Cabinet and Head (Director-General) of the Presidency and in that capacity he was responsible for managing the transition from Mbeki to Kgalema Motlanthe and then on to Jacob Zuma. He thus had a front row seat to the unfolding drama and was one of very few insiders to be party to the transition in such a unique way.

In July 2010 Chikane published a series of articles with Independent Newspapers that came to be known as the 'Chikane Files'. These form the basis of some of the content of this book (about a quarter of the book's total contents), which Chikane says he feels compelled to tell from his perspective in an effort to provide an insider's account of this key historical period.
Press release
2013 Sefika and Nielsen Booksellers Choice Awards by Books LIVE
Book details
eBook options – Download now!
---