By Michele Magwood for The Sunday Times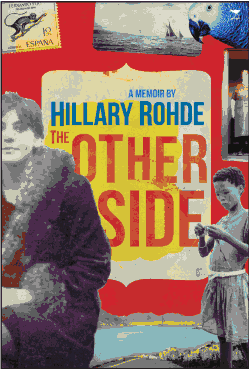 The Other Side
Hillary Rohde (Jacana)
****
It is hard to connect the elfin, shy woman at the table with the life story I have just read. It is a life of such extremes, such acute heights and crushing lows, played out in such extraordinary, vivid arenas, that one wonders how it can be contained in this slight form.
The contrast between Hillary Rohde's rumpled appearance and the string of macadamia-sized pearls around her neck says much. She has an unerring eye for the beautiful, but little concern for superficial display. She may have dressed in rags at one stage of her life, but they were the rags of exquisite Ossie Clark dresses. She may have lived with no running water or sanitation on a remote island, but she had a subscription to Vogue.
"I've always found the ends of the spectrum liberating," she says, "I'm comfortable in extremes."
Rohde came from a nice Jewish family in Sea Point and was expected to marry a nice Jewish boy. We all know about Jewish mothers and Jewish guilt, but Hillary's mother took it to epic, unhinged levels.
"How could I behave so badly if I loved her? How could I not love her when she loved me so much?" On and on it went, says Hillary, until her mother started to threaten to kill herself. "And that's finally what drove me away," she says. "It became a terrible choice – her survival or mine. And I had no doubt I would survive."
She set sail for London to study art and quickly fell in with a raffish, acid-dropping troupe. Quintessential hippies, they blew off across England in horse carts and caravans, travelling with Romanys and louche, velvet-clad "aristos", scions of eminent families having a lark. They survived on brown rice and stank of wood smoke, yet they camped in the grounds of stately houses.
Once they fetched up in a tumbledown shed running with rats. But this one belonged to Mick Jagger. "The pop stars and aristos were drawn to each other in those days," she says. "The pop stars wanted class and the aristos wanted glamour, so it was a perfect match." She remembers the parties, the willowy girls with blank doll faces. She remembers Mick belting out the beginnings of a song that became Jumpin' Jack Flash, "He had this huge energy, he was explosive, but he was much straighter than his image. He's shrewd and very kind."
Life simply buffeted Rohde along, to Tangier and Formentera, Findhorn and Cornwall and Wales, until she fell for a young American called Rick and finally put down a root. The soil for that root, though, was a tiny, frozen, isolated island called Li in the far north of Scotland. There she and Rick cleared and built and planted and struggled, dirt poor and idealistic.
In the years to come she would endure a near-lethal ectopic pregnancy, the birth of two children, the wrenching death of one, and a liver transplant. Navigating these storms, she began to spin the wool she found caught on the fences on the mainland. When she noticed the beautiful, intricate knitting of the local women, she gave them this wool, which she had hand-dyed. It was the germ of what became a world-renowned cashmere empire. From a tiny island to the smartest boutiques of London, New York and Rodeo Drive, her jerseys were coveted by the wealthy and the famous. Ralph Lauren became a customer.
Even Rohde couldn't sustain this schizoid existence, though, so she moved the business to Edinburgh. Today she lives between Cape Town, Edinburgh and Li, where she has planted a dazzling garden. Now that she has sold the knitwear company, it seems to be the new outlet for her artistic eye.
She remains less than sanguine about the hippy movement. "Aspects of it were destructive," she says. "It was all meant to be about empathy but people could be ruthless if you weren't cool. I saw people devastated. The idealism was just unsustainable."
Book details