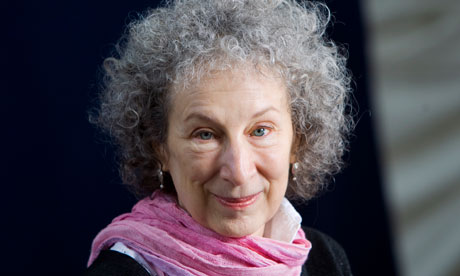 &nbsp>
Margaret Atwood's Maddaddam came out this week, ending off the dystopian trilogy of Oryx and Crake and The Year of the Flood. Atwood spoke to Emma Brockes, author of She Left Me the Gun and journalist at The Guardian, about Maddaddam as well as discussing bees, the advantages of being a zombie ("You have no responsibility! It's not your fault, you can do nothing. Don't expect anything from me, I'm just trying to shuffle.") and the popularity of apocalyptic literature.
"I think the pleasure is we like to walk it through in advance, with a consciousness that's still human. So you can't actually wipe out the human race and then tell a story about it. There has to be somebody still alive through whom you can hear that story. It's like that conundrum of where will I go after I die. You're still imagining an I", Atwood said about imagining the end of the world, as she does in her trilogy.
Atwood also comments on the recent article in The Atlantic by Lauren Sandler that suggested that female writers should only have one child if they want to succeed: "They can do whatever they like. Leave them alone. Alice Munro has three. I would personally have liked to have had more."
Read the interview:
When Margaret Atwood wrote Oryx and Crake in 2003, most of the inventions in the book were, to the non-scientist's eye, relatively outlandish: cross-species gene-splicing; growing meat in a petri dish; man-made pandemics. Ten years later, with the publication of MaddAddam, the last book in the trilogy, they are simply part of the news cycle. Atwood has an uncanny ability to second-guess developments in biotechnology, although frankly, she thinks, if they had any sense, scientists would look to her books and do more.

"Mohair sheep, they haven't done that yet," she says in the Atwoodian tone, a kind of steely levity. "I think it would be quite a good commercial venture. You can imagine a lot of people wanting to get their own DNA hair." The 73-year-old smiles, thinly. "I'm offering it as a free gift to the world."
Plus, here's a round up of reviews of Maddaddam:
Sometimes Margaret Atwood can get a little goofy. I mean no disrespect to the author of "The Handmaid's Tale" — in fact, it's a good thing that she writes intelligent works of dystopian fiction with a sense of humor. Otherwise, the end of the world as we know it might be just too grim.
The late Iain Banks complained a few years back about "literary" authors doing what their science fiction counterparts call "slipstreaming" – trespassing on their turf. In principle, Banks was all in favour of writers crossing genre boundaries, but he objected when the marauders didn't bother to work out what had "Been Done", and indeed what had "Been Done to the Point of Being a Joke". Imagine, he said, a literary novelist excitedly telling his editor about his brilliant new idea for a book, which is set in an English country house:
"The act of naming is the great and solemn consolation of mankind." Margaret Atwood found this first epigraph for her William Empson lectures, published as Negotiating with the Dead: A writer on writing (2002), in Elias Canetti's The Agony of Flies: Notes and notations (1992). The act of naming explains the peculiar title of Atwood's new novel MaddAddam – the third volume of a dystopian sequence, so far including Oryx and Crake (reviewed in the TLS, May 16, 2003) and The Year of the Flood (TLS, September 18, 2009). The title MaddAddam looks and sounds like a stretched (or stuttered) version of the appellation "Madam", but in Atwood's dystopia it is the collective name for the grandmasters of an elaborate computer game: "EXTINCTATHON, Monitored by MaddAddam. Adam named the living animals, MaddAddam names the dead ones. Do you want to play?"
MaddAddam forms a satisfying conclusion to Margaret Atwood's trilogy of dystopic novels, not least because it subverts the soullessness that sometimes characterises this mode. This final volume deploys its author's trademark cool, omniscient satire, but adds to that a real sense of engagement with a fallen world. Atwood has created something reminiscent of Shakespeare's late comedies; her wit and dark humour combine with a compassionate tenderness towards struggling human beings.
Book details
Image courtesy The Guardian