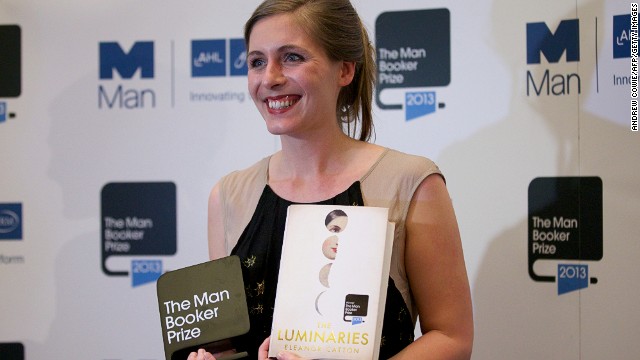 Since Tuesday, when Eleanor Catton won the prestigious 2013 Man Booker Prize for her novel The Luminaries, the media have been commenting on the fact that she is the youngest writer ever to receive the prize and that The Luminaries is the longest book ever to win.
In an interview with The Guardian's Charlotte Higgins, Catton addresses these preoccupations, touching on literary sexism and ageism. "I don't see that my age has anything to do with what is between the covers of my book, any more than the fact that I am right-handed," says Catton. She has picked up on "a sense of irritation from some critics – that I have been so audacious to have taken up people's time by writing a long book. There's a sense in there of: 'Who do you think you are? You can't do that.'" Futhermore, she says the most negative reactions to her book have been from men over the age of 45.
life swerved off its expected course almost exactly 12 hours before our meeting, the morning after her novel The Luminaries – a virtuoso work set amid the 1860s New Zealand gold rush – was named the winner of the 2013 Man Booker prize.

When the moment came , the TV cameras showed a face as still as a marble sculpture, pinned into immobility by shock. Then she dove into her handbag and rootled through it until she found her acceptance speech, which she delivered in a clear but tremulous voice. "The superstitious part of me didn't want to make the speech too easy to find," she explains. "At the same time I knew I'd never be able to relax if I hadn't prepared something. At times of emotional intensity I need a script."
In the Guardian interview Catton also spoke about the fact that women writers often get asked how they feel, while male writers are asked what they think. In the following interviews for The Telegraph and The Independent, Catton is asked how it feels to have won the Man Booker Prize. To Sameer Rahim of The Telegraph she says, "It feels awesome". But, clearly tired of the question, she tells Nick Clark of The Independent, "It is less fun to talk about what I am feeling rather than what I am thinking. Saying 'I feel awesome' isn't really interesting or enquiring".
She goes on in both interviews to discuss the thinking behind her prize-winning novel, a murder-mystery set during the gold-rush in New Zealand. The spark for the novel was the question whether justice or mercy should be more highly valued, Catton says. She also explains her use of the zodiac to inform the structure of the novel and personalities of the characters.
At the start of Eleanor Catton's The Luminaries, a man "not quite eight and twenty" arrives on foreign shores bearing a valuable story. On Tuesday night, Catton, a New Zealander who has just turned 28, was awarded the £50,000 Man Booker Prize for her second novel – a rollicking, 832-page historical yarn. Perhaps this might not seem a significant coincidence, but when I mention it to Catton, she lights up. She loves making unusual connections and seeing unexpected patterns.
I'm speaking with her on the morning after her victory and, though I can detect traces of the previous night's celebrations – make-up still sparkles on her cheeks – she is bright-eyed and energetic. "I got in from the after-party around 4.30 this morning," she says, "and was up for an interview at 7.30." I ask her what it feels like to be the youngest ever Booker winner. "It feels awesome. One of the strange things about the last few months is that I've been living in a state of anxiety. At the party that Granta hosted, there was champagne and everything was so joyful, but I still felt these flashes of nervousness: what's going to happen about the Booker?" She laughs. "And then I'd have to steel myself and think: I don't need to worry about this any more."
The morning after the night that will change her life, Booker Prize-winning novelist Eleanor Catton looks remarkably self-possessed. When her name was read out, she described the sensation as like being hit by a "white wall", and after just two hours' sleep and two cups of coffee, she is still struggling to get her head round it. "I still don't think it's quite real, I don't know when it will feel real. It is an unreal situation."

It's clear is that she would rather talk about ideas than her emotions. "It is less fun to talk about what I am feeling rather than what I am thinking. Saying 'I feel awesome' isn't really interesting or enquiring."
Book details