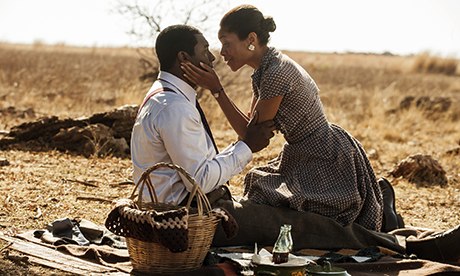 While preparing for the role of Winnie Madikizela-Mandela in the film adaptation of Nelson Mandela's autobiography, Long Walk to Freedom, Naomie Harris became aware of the "how disparate and completely polarised the views about her are".
Speaking to The Guardian's David Smith on her trip to South Africa for Mandela: Long Walk to Freedom's local premiere, Harris said, "Two people at the same event would say she behaved in completely different ways. One biography paints her as literally like devil and another as literally like a saint".
Smith refers to the recent positive reception of Madikizela-Mandela's prison diary 491 Days, compared to an article by Chris Thurman in which he questions the idolisation of Madikizela-Mandela and reminds readers of her links to vigilante justice.
Harris says that, although she is "not a spokesperson for Winnie", she does have compassion for her. "When you understand what she went through I think it's very hard to not understand that she's a product of her circumstances, a very particular set of circumstances that it's hard not to have compassion for."
Busisiwe, 14 and in red school uniform, wants to be an actor one day but is worried she can't sing. "I can't sing either," says British actor Naomie Harris. "My advice would be to get your education first. It's a very difficult profession, very precarious, so you always need another string to your bow."

It's Sunday morning at the Hlayisanani day care centre, originally built on a rubbish dump in Alexandra, the township where Nelson Mandela made his first Johannesburg home. Within sight of a graveyard and a short distance from a sprawl of shacks, Harris has come to this Save the Children project to witness a new generation of South Africans making art, serenading her and striving to escape harsh circumstances.
Book details
Image courtesy The Guardian