&nbsp>
The first president of democratic South Africa, Nelson Mandela, has sadly passed away at the age of 95. Mandela, who earlier this year had spent time in hospital with a recurring lung infection, died last night at his home, surrounded by his family.
This anti-apartheid struggle icon, who was imprisoned for 27 year for his belief in equality for all, and finally led South Africa into a new dispensation, leaves behind an immeasurable legacy, as tributes pour in from South Africa and abroad for this great man. American president Barack Obama, South African president Jacob Zuma, Archbishop Emeritus Desmond Tutu, former South African presidents Thabo Mbeki and FW de Klerk, Nigerian president Goodluck Jonathan, UN Secretary-General Ban Ki-moon, Israeli Prime Minister Benjamin Netanyahu, Australian Prime Minister Tony Abbott, German Chancellor Angela Merkel, the Dalai Lama, and ANC deputy president Cyril Ramaphosa are among those who honoured Madiba in the media:
President Barack Obama led the world in mourning the passing of Nelson Mandela last night, calling the South African leader "a man who took history in his hands and bent the arc of the moral universe towards justice".

Speaking less than an hour after Mr Mandela's death was announced, Mr Obama said the 95-year-old's life had inspired his own historic path to the White House.
What all of us have awaited with painful unease and impending grief in our hearts has come to pass. A truly outstanding son of our people, Nelson Rolihlahla Mandela, Madiba, has departed the world of the living.

His passing communicates the immensely sad and painful message that almost all members of an irreplaceable generation of South Africans has gone to its final resting place, despite all our prayers that – ulibambe lingatshoni!
The following is reaction to the death of Nelson Mandela on Thursday at age 95.

South African President Jacob Zuma: "Our people have lost a father. Although we knew this day was going to come, nothing can diminish our sense of a profound and enduring loss. His tireless struggle for freedom earned him the respect of the world. His humility, passion and humanity earned him their love."
BILL CLINTON, President of the United States, 1993-2001

Nelson Mandela taught us so much about so many things. Perhaps the greatest lesson, especially for young people, is that, while bad things do happen to good people, we still have the freedom and responsibility to decide how to respond to injustice, cruelty and violence and how they will affect our spirits, hearts and minds.

In his 27 years of imprisonment, Mandela endured physical and emotional abuse, isolation and degradation. His trials purified his spirit and clarified his vision, giving him the strength to be a free man even behind bars, and to remain free of anger and hatred when he was at last released.
Read the full text of Jacob Zuma's address to the nation:
"My Fellow South Africans, our beloved Nelson Rolihlahla Mandela, the founding President of our democratic nation, has departed.

"He passed on peacefully in the company of his family around 20h50 on the 5th of December 2013. He is now resting. He is now at peace. Our nation has lost its greatest son. Our people have lost a father.
At his passing, we are reminded of the rights he stood for, including "a critical, independent and investigative press" which is "the lifeblood of any democracy".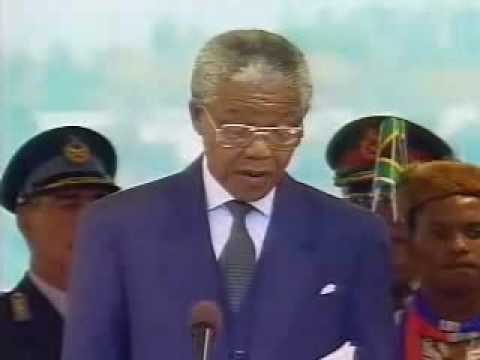 FROM HIS ADDRESS to the conference of the Pan-African Freedom Movement of East and Central Africa, Addis Ababa, January 1962.

"South Africa is now a land ruled by the gun. The government is increasing the size of its army, of the navy, of its air force, and the police. Pill-boxes and road blocks are being built up all over the country. Armament factories are being set up in Johannesburg and other cities. Officers of the South African army have visited Algeria and Angola where they were briefed exclusively on methods of suppressing popular struggles. All opportunities for peaceful agitation and struggle have been closed. Africans no longer have the freedom even to stay peacefully in their houses in protest against the oppressive policies of the government. During the strike in May last year the police went from house to house, beating up Africans and driving them to work.
In his own, ever-humble way, quoted in In the Words of Nelson Mandela edited by Jenny Cryws-Williams, the Nobel Peace Prize winner had this to say about his last day: "On my last day I want to know that those who remain behind will say: 'The man who lies here has done his duty for his country and his people'".
Mandela's words have also been collected in Let Freedom Reign: The words of Nelson Mandela edited by Henry Russell, Nelson Mandela in His Own Words edited by Kader Asmal, Nelson Mandela by Himself and Conversations with Myself. His essays are compiled in No Easy Walk to Freedom, edited by William Gumede and, of course, he tells his life story in Long Walk to Freedom. Apparently Mandela's former colleagues are working to complete a sequel to the latter, which Mandela had started writing in 1998, titled The Presidential Years.
Long Walk to Freedom has also been turned into a film starring Edris Elba as Mandela and Naomie Harris as Winnie Madikizela-Mandela, that has just started showing in cinemas. Anant Singh, Ahmed Kathrada and William Nicholson have created a book, Mandela, as companion to the film.
Madiba has also inspired countless other books, from cookbooks such as Hunger for Freedom by Anna Trapido and Ukutya Kwasekhaya by Xoliswa Ndoyiya; photography books like A Prisoner's Home by Alf Khumalo and Zukiswa Wanner and Nelson Mandela: A Life in Photographs by David Elliot Cohen; and children's books, for example Nelson Mandela: The Authorised Comic Book, Nelson Mandela's Favorite African Folktales and Madiba Magic. Academic tomes such as Mandela & Mbeki – The Hero and the Outsider by Lucky Mathebe have been published and of course Invictus: Nelson Mandela and the Game That Made a Nation by John Carlin, which was turned into a film staring Morgan Freeman as Mandela.
These works, the Nelson Mandela Archive, our new bank notes depicting the former president, the Nelson Mandela Foundation, the Nelson Mandela Children's Fund and Mandela Day, celebrated annually on Madiba's birthday, are just some of the ways in which he will always be remembered.
Our thoughts go out to the Mandelas who at the start of the festive season have lost the head of their family.
Rest in peace, Tata. Hamba Kahle.
Book details
eBook options – Download now!
---
Photo courtesy the Global Post