Shortly before the passing of Nelson Mandela, luxury publishing brand Opus, in association with the Nelson Mandela Foundation, launched a 50cm² tome, consisting of 850 pages and weighing 37kg about the former South African president's life.
Edited by award-winning journalist Ryland Fisher, The Official Nelson Mandela Opus contains contributions by, among others, Jacob Zuma, FW de Klerk, George Bizos, Ahmed Kathrada, Zelda le Grange, Nicholas Wolpe, and even Richard Branson and Gordon Ramsay. There are also interviews with family members and members of his first cabinet. Archbishop emeritus Desmond Tutu wrote the foreword, which can be read on the Opus website:
"Look to the rock from which you were cut and to the quarry from which you were hewn." – Isaiah 51.1

Diamonds form when carbon atoms deep beneath the ground bond together under severe temperatures and pressures. The most valuable stones are formed as a consequence of the most extreme conditions.

Adverse conditions can have similar effects on human beings. In South Africa, the cauldron of apartheid prejudice and oppression honed a generation of extraordinary leaders, Walter and Albertina Sisulu, Govan Mbeki, Robert Sobukwe and OR Tambo among them. And Nelson Rolihlahla Mandela.
The many photographs in book were sourced from all over the world by the project's photo editor, Benny Gool. Have a look at some of the pages:
The book was launched on 3 December at the Nelson Mandela Centre of Memory, Johannesburg, only two days before Madiba's passing. Times LIVE reported on the event:
A book chronicling Nelson Mandela's life will ensure that the anti-apartheid icon's legacy is never forgotten, Public Service Minister Lindiwe Sisulu said on Tuesday.

"I want to pledge to all of you that I will fight… to make sure that history is made a compulsory subject for all our children so that at no point do our children grow up not understanding who we are, what we have been through and what has defined what we are today," she said at the launch of the book, called the Nelson Mandela Opus, in Johannesburg.

"This book will be the first book that will be taught in those schools when I succeed."
Watch a video from the launch: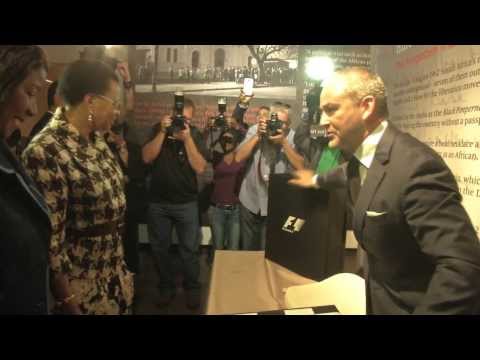 In the past, Opus has focused on sport and entertainment books such as the The Official Formula 1 Opus and The Official Michael Jackson Opus. You can register your interest in The Official Nelson Mandela Opus online and be informed when it goes on sale.