&nbsp>

"Okonkwo got one of the illest reps of any hood in the Nigerian Umuofia clan, but being a high-baller don't run in the family. Errybody know that Okonkwo's daddy was nothing but a broke-ass scrub." So starts Sparky Sweets, PhD's Thug Notes summary of Things Fall Apart by Chinua Achebe.
Neil Genzlinger from The New York Times writes that Thug Notes, and Sparky Sweets, are the creations of comedian Greg Edwards, who explains that the videos are his "way of trivializing academia's attempt at making literature exclusionary by showing that even highbrow academic concepts can be communicated in a clear and open fashion."
Sweets summarises works of literature in short videos, usually under five minutes long, and then shares his analysis. On Things Fall Apart he says: "Ain't no doubt that those crooked-ass imperialists took a big old dump on Africa, but like we can see with Okonkwo icing his boy and disrespecting the gods, maybe things started falling apart before they got there."
Watch the video and read more about Thug Notes in Genzlinger's article below: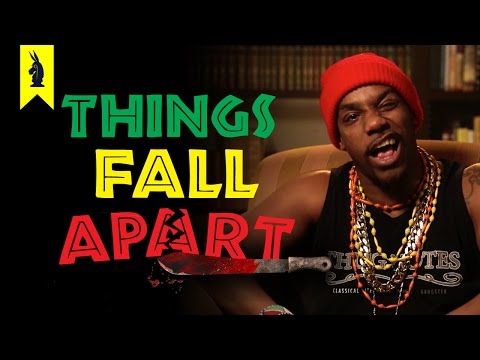 In 1848, a reviewer for Graham's Magazine described "Wuthering Heights" as "a compound of vulgar depravity and unnatural horrors, such as we might suppose a person, inspired by a mixture of brandy and gunpowder, might write for the edification of fifth-rate blackguards." Presumably, this grumpy writer would have cared even less for the Thug Notes version.
If you didn't appreciate that nontraditional interpretation of Achebe's work, then we strongly suggest you don't read this fan fiction erotica featuring Okonkwo and his second wife, Ekwefi. The piece, titled "Thighs Fell Apart", was commissioned by Ainehi Edoro for Brittle Paper and written by Nigerian Kiru Taye:
Okonkwo paced the confined space of his hut. His feet bounced off the mud floor, his back and shoulders ached with tension. In three long strides he reached the end of one wall, grunted and turned to stomp in the other direction.

Silver light from the moon filtered through the cracks in the door, shedding some light in the otherwise gloomy chamber. He had blown out the flame from the wicker lamp hours ago. Only a rich man could afford to waste money burning the lamp all night long.
Book details
Image courtesy Smashpipe