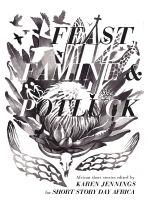 Alert! The shortlist for the 2014 Caine Prize for African Writing has been announced by Nobel laureate and prize patron Wole Soyinka in Port Harcourt, Nigeria, as part of the UNESCO World Book Capital celebrations.
CainePrize2014 shortlist is Diane Awerbuck (SA), Efemia Chela (Ghana, Zam), Tendai Huchu (Zim), Billy Kahora (Kenya), Okwiri Oduor (Kenya)

— Caine Prize (@CainePrize) April 22, 2014
This year marks the fifteenth edition of the award, known as the "African Booker", which is given annually for an African short story. The winner – to be announced on 14 July – receives £10 000. Last year's winner was Nigeria's Tope Folarin.
After being completely shutout in 2013, 2014 sees a comeback by eastern and southern Africa, which occupy – depending on how you count 'em – all five of the available slots. South Africa is well-represented by both Diane Awerbuck and two entrants from the South Africa-born Short Story Day Africa project.
To celebrate the prize's longevity, each of the shortlistees will receive £500. Without further ado, they are:
Diane Awerbuck (South Africa) for "Phosphorescence", published in Cabin Fever (Umuzi, Cape Town. 2011)
Efemia Chela (Ghana/Zambia) for "Chicken", published in Feast, Famine and Potluck (Short Story Day Africa, South Africa. 2013)
Tendai Huchu (Zimbabwe) for "The Intervention" , published in Open Road Review, issue 7 (New Delhi. 2013)
Billy Kahora (Kenya) for "The Gorilla's Apprentice" in Granta 127: Japan (London. 2010)
Okwiri Oduor (Kenya) for "My Father's Head", published in Feast, Famine and Potluck (Short Story Day Africa, South Africa. 2013)
Kudos in particular must be given to the Short Story Day Africa team of Rachel Zadok and Tiah Beautement, for having the vision to conceive the project and whose first book, Feast, Famine and Potluck has proven to be such essential reading. (See Diane Awerbuck's suberb review of the collection.)
Congratulations and good luck to all the shortlistees (and especially to Diane)! Here's the official 2014 shortlist press release from the Caine Prize:
2014 Caine Prize Shortlist Press Release by Books LIVE
Book details