The judges have read, deliberated and debated, and now present the shortlists for the 2014 Sunday Times Literary Awards, in association with Exclusive Books.
Five novels are in contention to win the Sunday Times Fiction Prize. The winning author, announced in June, will receive R75 000.
Prize Criteria: "The winner should be a novel of rare imagination and style, evocative, textured and a tale so compelling as to become an enduring landmark of contemporary fiction."
Chairperson Annari van der Merwe says: "This year's shortlist contains an interesting mix of different genres, including historical fiction, Bildungsroman and, in one novel, both speculative fiction and crime. Two novels are by established writers, three by newcomers. What distinguishes all of them, however, is that they are exploring unfamiliar territory, are written in a unique narrative style, and are plotted in an imaginative way. We believe each has the potential to become an 'enduring landmark', to quote the prize criteria, of contemporary South African fiction."
The Shining Girls
Lauren Beukes (Umuzi)
Set in Chicago, a strange house gives serial-killer Harper the power to travel through time; to hunt and kill his 'shining girls'. They're bright young women full of spark – until he cuts it out of them, leaving clues from different times behind to taunt fate. Kirby, the '90s girl, survives his attack and turns the hunt around. Tracing Harper's bloody trail of victims – from a glowing dancer in the 30s to a tough welder in the 40s and a bombshell architect in the 50s – Kirby is running out of time trying to solve an impossible mystery. And Harper is heading towards her once again.
False River
Dominique Botha (Umuzi)
When Paul and Dominique are sent to boarding schools in Natal, their idyllic childhood on a Free State farm is over. Their parents' leftist politics has made life impossible in the local dorp school. Angry schoolboy Paul is a promising poet, his sister his confidant. But his literary awakening turns into a descent. He flees the oppression of South Africa, only to meet his death in London. Dominique Botha's poignant debut is an elegy to a rural existence and her brother – both now forever lost. The novel is based on true events.
Penumbra
Songeziwe Mahlangu (Kwela Books)
Mangaliso Zolo is a hapless recent graduate still living in the southern suburbs of Cape Town. Manga has an office job at a large insurance company, but he is overlooked in this vast bureaucracy. Penumbra charts Manga's daily struggles with mental illness and the twin pull, from his many friends and acquaintances, between a reckless drug-fuelled lifestyle and charismatic Christianity. The novel brings an alternative experience of Cape Town to life.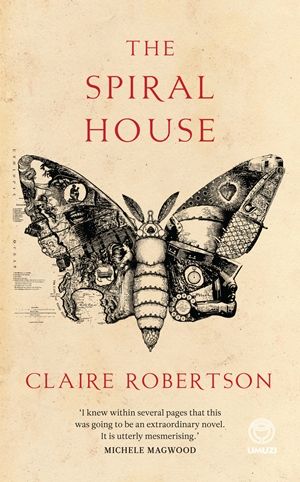 The Spiral House
Claire Robertson (Umuzi)
The year is 1794 and Katrijn van der Caab, freed slave and wigmaker's apprentice, travels with her eccentric employer from Cape Town to Vogelzang, a remote farm where a hairless girl needs their services. On Vogelzang the master is conducting strange experiments in human breeding and classification. It is also here that Trijn falls in love. Two hundred years later and a thousand miles away, Sister Vergilius, a nun at a mission hospital, wants to free herself from an austere order. It is 1961 and her life intertwines with that of a gentleman farmer – an Englishman and suspected Com¬munist – who collects and studies insects. In Claire Robertson's majestic debut novel, two stories echo across centuries to expose that which binds us and sets us free.
Wolf Wolf
Eben Venter (Tafelberg)
Mattheus Duiker, the only son of Benjamin Duiker, the former owner of Duiker's Motors, opens the gate of their Cape Town mansion to his lover, Jack. Disguised as a wolf, Jack invades the intimate darkness in which Matt is waiting for his father to die and for his own life to take off. Shiny-eyed at the prospect, the two young men sneak past the study where the old blind man, dwelling on melancholy attachments and sombre suspicions, sits listening for the footfall of death. Eben Venter's novel is an unsparing investigation into the relation between a father and his son, into the disenfranchisement of a man who can glean scant wisdom from the past to equip him for life in a rapidly changing dispensation.