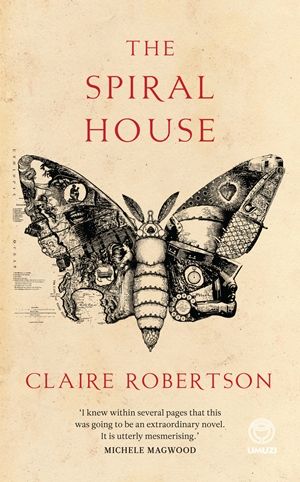 Alert! Old non-fiction hand Max du Preez and debut novelist Claire Robertson were announced as the winners of the 2014 Sunday Times Literary Awards at a gala event this evening in Johannesburg.
Du Preez won the Alan Paton Award for his book A Rumour of Spring: South Africa after 20 Years of Democracy, published by Zebra Press, while Robertson won the Fiction Prize for her novel The Spiral House, published by Umuzi. Both prizes are worth R75 000.
The Sunday Times Literary Awards, in association with Exclusive Books, mark their 25th anniversary this year. The Alan Paton Award is given for a work of non-fiction that promotes "the illumination of truthfulness, especially those forms of it which are new, delicate, unfashionable and fly in the face of power; compassion; elegance of writing; and intellectual and moral integrity". The Fiction Prize is given for a "work of rare imagination and style, evocative, textured and a tale so compelling as to become an enduring landmark in contemporary fiction."
The Sunday Times produced a commemorative book to mark its 25 years of literary celebration, which contains excerpts from all the winning books to date, and was given to those who attended this evening's ceremony.
Former Sunday Times columnist and veteran entertainment journalist Barry Ronge received a Lifetime Achievement Award from Sunday Times editor Phylicia Oppelt, who said the award was in appreciation of his lifelong dedication to his craft, his love of language and ability to write with refinement and dignity. It was also announced that, from next year, the Fiction Prize would be named in his honour.
Novelist and poet Christopher Hope gave the evening's main address, remembering Alan Paton's contribution, not only to South Africa's letters, but also to its democracy:
The numbers of white South Africans willing to stand up and speak for NelsonMandela were vanishingly small. Paton they saw as mad, bad or both. Hells Bells , he had founded the Liberal Party, and called for a free vote for every South African, and rejected the crazy idea that one race trumped all others; he even believed ,unlike those who ruled our country then, that beating , locking-up or shooting your citizens did not in any way improve their behaviour .

So when Paton volunteered to testify as a character- witness in the Rivonia Trial, many of his white compatriots saw him as even madder, badder and more dangerous to know.
Books LIVE will publish Hope's complete address next week; you can also find excerpts from it in this Sunday's Sunday Times.
The Fiction Prize judges called called The Spiral House an "astonishingly adept and richly imagined novel, a layered, subtle story that resonates with important ideas about history. We applaud the sensuous quality of the writing and were amazed by its remarkable language."
The Alan Paton judging panel called du Preez's book a "bracing, opinionated read, 'vintage Max du Preez'. A nuanced and well-crafted work, casting a rigorous critical eye not only on the powers that be, but on ordinary citizens and the writer himself. This is the best of all the reflections on 20 years of democracy published last year."
Last year's winners were Karen Jayes for fiction and Redi Tlhabi for non-fiction.
Du Preez pipped books by Shaun Viljoen, Vusi Pikoli and Mandy Wiener, Karel Schoeman and Elizabeth van Heyningen to the Alan Paton post:
In A Rumour of Spring, he "investigates and analyses the progress — and lack of progress — the country has made during the past 20 years. He looks at the legacies of Nelson Mandela and Thabo Mbeki and examines Jacob Zuma's presidency to better understand where we are. In the context of blatant corruption, populism and tragedies such as the Marikana massacre, the book considers the current state of the ruling party and the opposition, and dissects the big issues afflicting our society. And then, he dares to look to the future."
Meanwhile, Robertson's book was in the running with novels from Lauren Beukes, Dominique Botha, Songeziwe Mahlangu and Eben Venter.
In Robertson's The Spiral House, "two stories echo across centuries to expose that which binds us and sets us free. The year is 1794 and Katrijn van der Caab, freed slave and wigmaker's apprentice, travels with her eccentric employer from Cape Town to Vogelzang, a remote farm where a hairless girl needs their services. On Vogelzang the master is conducting strange experiments in human breeding and classification. It is also here that Trijn falls in love. Two hundred years later and a thousand miles away, Sister Vergilius, a nun at a mission hospital, wants to free herself from an austere order. It is 1961 and her life intertwines with that of a gentleman farmer – an Englishman and suspected Communist – who collects and studies insects."
Watch a video from the event: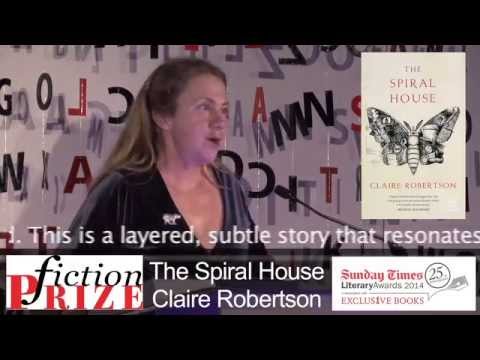 Hearty congratulations to Max du Preez and Claire Robertson!
Book details