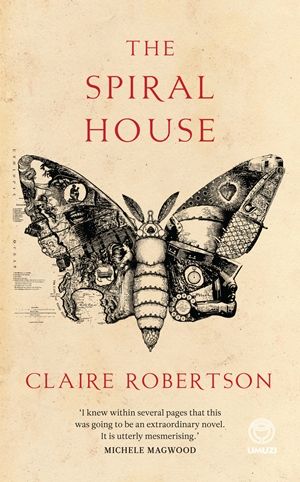 Claire Robertson declared that she had "suddenly discovered the meaning of that overused word 'stunning'" after being awarded the 2014 Sunday Times Fiction Prize for her debut novel, The Spiral House.
Despite MC Nik Rabinowitz's protestations that this year's Fiction Prize should go to the Nkandla report, which had the audience in stitches, Robertson was presented the award, by Benjamin Trisk from Exclusive Books and The Times editor Stephen Haw.
"Personally I'm holding thumbs for the Nkandla report," Rabinowitz said. "Not since Redi Tlhabi's Endings and Beginnings has a work of fiction brought that many people to tears. The metaphor of the fire pool is pure genius, creating a space that is both fire and water in the centre of a space which seemingly sprang fully formed and unfettered from the imagination of a man with no human intervention. I think we can all agree that that is the true fiction winner tonight. The Nkandla Report. Thuli Madonsela not here to accept it, but …"
Robertson then stepped up, and began by recalling her time working at the The Star with Barry Ronge, who was awarded a lifetime achievement award on the night. (It was also announced that from 2015 the award will be known as the Barry Ronge Fiction Prize.) In his acceptance speech, Ronge recalled how the legendary Sunday Times editor Tertius Myburgh told him to "be imperious". Robertson said she and her young colleagues called it "bloody terrifying".
Congratulations, Claire!
The full speech:
If you'd like to know how weird life is and how it imitates art, or art imitates life, before Barry Ronge worked for the Sunday Times he worked for The Star, and before I ever attempted fiction I was a journalist for years and years, and just before I was a journalist I was on the cadet course at The Star. And they decided to test us on our interviewing skills on the only journalist any of us had ever heard of. We're now working four floors down, and Barry Ronge duly came up and was interviewed ad nauseam by these 19-year-olds who had no idea what they were doing. And he was indeed imperious – we called it bloody terrifying!
I'm coming off five weeks of magical thinking since they announced the shortlist, so you'll get no sense out of me. But I would like to try to remember the people that I'd like to thank for being such good friends to this book. Jenny Hobbs, Michele Magwood, Steve Connolly, the head of the Random House of Penguins, not just because he's the Grand Poobah of publishing, but because he's the only person who saw the Dylan Thomas homage in the book. My wonderful editor Fanie Naude, the incomparable and brilliant Fourie Botha, who I think writers just want to please. I think that's the lot and clearly I've suddenly discovered the meaning of that overused word "stunning", in that I feel stunned, he/she/it was stunned, but thank you very much.
* * * * *
Wishes flew in for Robertson on Twitter:
Great night. We won both the Sunday Times awards! So happy for Claire Robertson & Max du Preez. Incredibly proud. pic.twitter.com/s5V86wnFps

— Steve Connolly (@SAbookman) June 28, 2014
Well done Claire! I loved Spiral House. RT @BooksLIVESA Claire Robertson awarded Sunday Times Fiction Prize – The Spiral House #STLitAwards

— paige (@paigen) June 28, 2014
Congratulations to Claire Robertson! #STLitAwards

— Ben Williams (@benrwms) June 28, 2014
The @SundayTimesZA Fiction Prize for 2014 goes to Claire Robertson for 'The Spiral House'. Congrats Claire!

— Eusebius McKaiser (@Eusebius) June 28, 2014
Also thrilled that Claire Robertson won the Sunday Times fiction prize for her incredible debut novel, The Spiral House.

— Julian Rademeyer (@julianrademeyer) June 29, 2014
Book details