Chris van Wyk, the beloved poet, editor and author who first came to prominence during the struggle against apartheid, then set a high water mark as a memoirist and writer of children's books, has died in Johannesburg.
Van Wyk was born in Soweto in 1957, and grew up in Riverlea, a so-called "Coloured" section of south-western Johannesburg, where his two memoirs, Shirley, Goodness and Mercy and Eggs to Lay, Chickens to Hatch, are set.
He worked as an editor at the literary magazine Staffrider, as well as at Ravan Press, the storied publisher of dissident voices opposed to apartheid. In 1979, he published one of the most-quoted anti-apartheid poems, "In Detention", which appeared in the collection It is Time to Go Home under the Ad Donker imprint, and for which van Wyk received the Olive Schreiner Prize. The poem was quoted widely today on Twitter, including by Angelo Fick:
Terry Morris of Pan Macmillan, Van Wyk's publisher, spoke to Books LIVE about Van Wyk:
"You have these kind of tumultuous memories of Chris that you sift through. He was so incisive in terms of his views on politics and the country, but he also had this larger-than-life presence and great sense of humour. He was the author who I had the longest association with at Pan Macmillan and Picador Africa. The first book we published, Shirley, initially was meant to be a novel, but he changed it to a memoir, and it was a huge success.
"Kids loved him – he visited schools all around the country to tell stories and get kids reading. He simply captivated them.
"He and his wife Kathy both came from big families. Their story was so special: they had a childhood romance and were inseparable. It's hard to think of one without the other. Chris couldn't drive so Kathy took him everywhere."
In addition to his two memoirs and several children's books, Morris published Van Wyk's abridgment for young readers of Nelson Mandela's Long Walk to Freedom, about which Mandela said, "We are happy that all children are now able to read … the story of the long road we travelled for freedom in South Africa."
Here is a video of Van Wyk reading his poem, "My Mother's Laughter":
Here is a video of Van Wyk on one of his many school trips: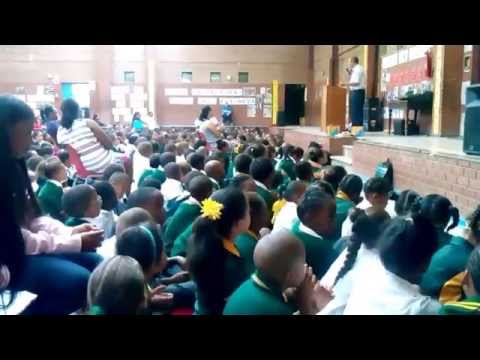 And here are two videos Chris talking about his second memoir, Eggs to Lay, Chickens to Hatch, at the book's launch, which give some sense of his powers as a raconteur:
~ ~ ~
Van Wyk, who, in addition to the Olive Schreiner Prize, also won the Maskew Miller Longman Award and the Sanlam Literary Award, was part of the Black Consciousness Movement of the '70s and '80s, and an associate of such fellow poets as Mafika Gwala, who also died this year. Van Wyk's writings include biographies of Sol Plaatje and Oliver Tambo for teenagers, and adaptations of works by Bessie Head and Can Themba. This year, his story "Relatives", first published in 1995, was selected as one of the best twenty stories of South Africa's twenty years of democracy.
Chris van Wyk was prolific; he was real; he was one of the greats. Books LIVE's thoughts are with his wife Kathy and their children, and all who loved him and received his wit and wisdom down the years. Hamba Kahle, Chris.
More tributes to Chris van Wyk
From Twitter
Goodbye dear author and friend Chris van Wyk. We cherish your beautiful words and the wonderful memories! RIP

— Pan Macmillan SA (@PanMacmillanSA) October 4, 2014
The world is dimmer today without Chris van wyk's inimitable laugh. Rest in peace.

— Michele Magwood (@michelemagwood) October 4, 2014
RIP Chris Van Wyk: your laughter,poetry and novels and brilliant and arresting performance of extracts from these leaves a chasm. Long live.

— maureen isaacson (@maureenisaacso) October 4, 2014
Can't believe the news about Chris van Wyk. A great writer and one of my inspirations. Always said I wanted to be like him when I grow up.

— Ryland Fisher (@rylandfisher) October 4, 2014
RIP Chris van Wyk. The first author I truly adored in person and in craft. He told me a joke once. I… http://t.co/xoA9NeE7Ux

— Kelly Ansara (@QueenKelso) October 4, 2014
A writer of conscience who captured our pain and our hopes. Go well, Chris van Wyk

— Jonathan Jansen (@JJ_UFS) October 4, 2014
Yho! Mbulelo Mzamane, Nadine Gordimer, and now Chris van Wyk!

— Thando Mgqolozana (@thando_mgqo) October 4, 2014
Didn't know Chris Van Wyk passed away until just know. Man, that's terrible news. He looked so lively the last time I saw him.

— Ndumiso Ngcobo (@NdumisoNgcobo) October 4, 2014
From Facebook
Chris van Wyk links
Book details