In December last year Kenyan storyteller extraordinaire Binyavanga Wainaina addressed an adoring crowd at the sixth edition of TEDx Euston: Facing Forward held in London.
Wainaina is an established author and the founding editor of Kwani?, a Kenya-based literary network dedicated to developing quality creative writing in Africa. Last year he was named one of Time's 100 Most Influential People after he made headlines in January when he came out as homosexual by adding a moving lost chapter to his book, One Day I Will Write About This Place.
The piece, titled "I am a homosexual, Mum", took on the form of a letter to his mother who passed away when he was 29. In it, Wainaina imagines the conversation he would have had with her. His talk at TEDxEuston followed up on this, with Wainaina sharing the conversation he would have like to be able to have with his father, whom he calls Baba.
Dear Baba,

We've been needing to talk. We haven't really had a chance to talk since you died three years ago and I thought today might be a good day. Of course, you might be aware that with mum, I had a conversation in January. With mum. About me, and about stuff in general.

In April 2001, Baba, I had just come back from Cuba for spring break. I'd gone of course to misbehave and I had a lot of fun. In fact, it was difficult getting out because I did not know that in Cuba you could not use an American credit card and I had to rush back on that Sunday to get back to teach on Monday and on Monday, my head felt weird. I thought, "Ah! Too much rum." My body wasn't moving properly, things were awkward.

Monday, Tuesday, taught class, Wednesday, Thursday. On Friday it felt like there was water moving all over my head and I took myself to the hospital. They took an MRI and they told me I'd had nine small strokes. This was April. And they said they'd have to put a pipe through here [stomach] because that vein [in his head] was 70 percent full and it will go inside and reach here [head] and then it will burst open and there's a 5 percent chance that I will bleed and things will happen. Off course, and remember that many conversations were happening on the phone and I was away for 14 days and really didn't get to talk.

Later, months later, auntie Muvoni came to visit and said to me: "You know, your father called me in tears and said, 'Please, save my son!'" Now you know, Baba, we never have these sorts of conversations, I love you, I love you fine …
Later, after had Wainaina recovered, his father was rushed to the hospital, after also suffering a stroke. This brings Wainaina to another memory:
Let me reverse. When we sat in your living room three weeks before you had said to me something. You said, "You know I've prepared a room for the two of you?" And I remember very clearly my head saying, What?! This is unusual and clearly you are opening a fire. You know, Baba, you have never asked me, "Where is your girlfriend?" and I can't say there was any inconsistency in the love you gave. You never said there was anything wrong when I was dressing up in girls' clothes with Shiro and getting into strange kinds of trouble. It seemed to least bother you. Or me twirling like Michael Jackson! There were clearly concerns on your face, but it didn't affect the love you gave me. So when you said that I thought to myself this is the time to bring it up with you. Surely this is the time for me to say that I need to hear from you to be freed to love and that I am 40-something years old and I need that freedom and I need to hear from you that it is okay. But I didn't.
After that moment, Wainaina's baba passed away, and the author felt he had to ask himself how he could have contributed to the stress that led to his father's death. He reflects on his own life and the various things he had gone through, wondering how it affected his dad. He admits, "I really wasn't the brave one. But I feel like now my season is beginning," and shares with his father the hopes he has for the continent he calls home:
There is nothing that is a priority about being a homosexual and being an African. But there is everything that every African has to defend, every kind of diversity we carry as an African, even when you do not understand it. For me, what has come to be is to arrive at this place where I am living in plain light. I am not living in a dark continent. I will stand free, the way I need to be as a moral being on the continent and nobody will stop me from going where I will. And, if you decide to, I will go through you or you will stop me.

We cannot think of our continent as a hostile place. Too many of us have learnt to fear it. And I feel that if you trust it, engage with it and be involved with it in conversations of building, as adventurers, that this continent will start to sing to us again.

That is all I have to say.
Watch the video for Wainaina's full conversation with his father: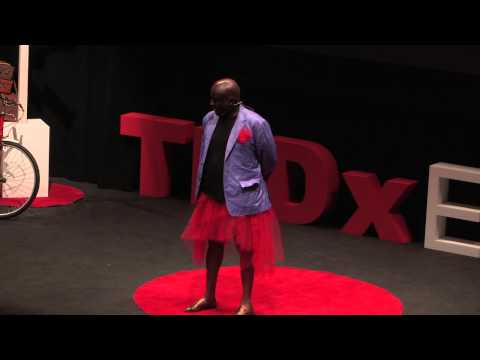 Book details
Image courtesy of TEDxEuston