Alert! The winners of the 2015 Windham Campbell Literature Prizes have just been announced.
The prize, in its third year, is awarded to "honour and support writers anywhere in the world writing in English", and comes with prize money of $150,000.
There are three categories – fiction, nonfiction, and drama – and three winners in each category.
The 2015 winners are, in fiction: Teju Cole, Helon Habila, and Ivan Vladislavić; in nonfiction: Edmund de Waal, Geoff Dyer, and John Jeremiah Sullivan; and, in drama: Jackie Sibblies Drury, Helen Edmundson, and Debbie Tucker Green.
The prizes were announced by Peter Salovey, the 23rd president of Yale University, at the Beinecke Rare Book & Manuscript Library today.
Winners will receive their prizes at a ceremony and literary festival at Yale from 28 September to 1 October, 2015.
Michael Kelleher, the director of the Windham Campbell Prizes, introduced the prizes, saying: "Today's recipients did not know they had been nominated. Nominations were solicited confidentially from literary and theatre professionals from across the globe."
After the announcement, Kelleher explained how he had telephoned all the winners just after the selection process and put them on speakerphone: "The prizes are becoming a bit more well-known now, so I don't think anybody thought that it was a Nigerian fishing scam this year, which quite a few of them did last year. I think my favourite response this year was when one of the prize winners said, in front of the whole selection committee, 'You know, if this is a practical joke, this is the meanest practical joke anyone has every played on me!'
"But as ever, nobody had any idea they had been nominated. They were all very surprised and very appreciative. And really touched by the fact that, first of all, they were on the radar, and second of all that their prize nomination went through this very long and rigorous process."
When asked about the international nature of the prize, Kelleher said: "We have a limited number of nominations that are available each year, only about 20 to 25 in each category, so within that I seek to cast as wide a net as possible while also maintaining the high standards of the nominees that we've come to expect every year.
"So not every country in the English-speaking world gets represented every single year, but when they do get represented we try to make sure that there's a certain amount of saturation, so when judges are looking at their work, they're seeing other writers from those parts of the world and comparing them to each other, but also comparing them to writers from everywhere else.
"I travelled to other countries, I spent two weeks in Australia last summer, meeting a lot of the literary folks from down there, so hopefully they'll have some solid representation in the coming years, and I continue to do that in different parts of the world."
Watch the prize announcement: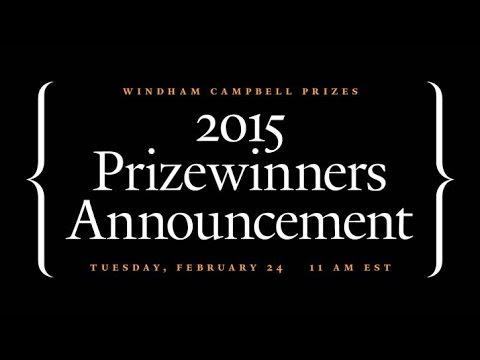 Related news:
Press release
NINE INTERNATIONAL WINDHAM CAMPBELL PRIZEWINNERS ANNOUNCED
Recipients, chosen for fiction, nonfiction, and drama, each receive $150,000 unrestricted grants
NEW YORK, FEBRUARY 24–– The Windham Campbell Prizes announced today its third round of prizewinners, chosen confidentially in three categories –– fiction, nonfiction, and drama ––to honor and support writers anywhere in the world writing in English. The awards, which come with a $150,000 check, can be given for a body of work or extraordinary promise. The 2015 winners are, in fiction: Teju Cole, Helon Habila, and Ivan Vladislavić; in nonfiction: Edmund de Waal, Geoff Dyer, and John Jeremiah Sullivan; and, in drama: Jackie Sibblies Drury, Helen Edmundson, and Debbie Tucker Green. Full bios are just below.
The Windham Campbell Prizes were established by Donald Windham and Sandy M. Campbell to call attention to literary achievement and provide writers with the opportunity to focus on their work independent of financial concerns. The Prizes debuted in 2013. There is no submission process and winners are determined by a global group of invited nominators, a jury in each category, and a selection committee.
In September, the winners will gather from around the world at Yale (where the Prizes are based), for an international literary festival celebrating their work. All events are free and open to the public.
"The Windham Campbell Prizes were created by a writer to support other writers, said Michael Kelleher, director of the program. "Donald Windham recognized that the most significant gift he could give to another writer was time to write. In addition to the recognition prestige it confers, the prize gives them just that — with no strings attached."
Fiction:
Teju Cole is the author of two works of fiction that radically expand our understanding of diaspora and dislocation in the twenty-first century. Cole was born in the US to Nigerian parents, raised in Lagos, and currently resides in New York City, which serves as both setting and subject of Open City (2011). The novel, which documents the roaming thoughts and encounters of a Nigerian-German psychiatrist, was a finalist for the National Book Critics Circle Award and earned Cole a PEN/Hemingway Award, the Rosenthal Award of the American Academy of Arts and Letters, and frequent comparisons to W.G. Sebald. In Every Day Is for the Thief, published in 2007 in Nigeria and in 2014 in the US, a dual American and Nigerian citizen travels from his home in New York to Lagos and finds himself a stranger. Every Day features original photographs by the author, and was named a Book of the Year by the New York Times, the Telegraph, the Globe and Mail, and NPR. Cole is the Distinguished Writer in Residence at Bard College, photography critic of the New York Times Magazine, and is currently at work on a nonfiction book about contemporary Lagos.
Helon Habila is the author of three novels. He was Arts Editor of Nigeria's Vanguard Newspaper when his short story "Love Poems" won the 2001 Caine Prize, garnering him international attention as one of the most exciting new voices in contemporary fiction. The story was excerpted from his first novel, Waiting for an Angel (2002), itself about a Nigerian journalist's literary ambitions threatened by a repressive military regime. Waiting was awarded the Commonwealth Writers Prize for Best First Novel (Africa Region). That year Habila was also invited to serve as the first African Writing Fellow at the University of East Anglia, and in 2006 he co-edited the British Council's collection NW14: The Anthology of New Writing. His second novel Measuring Time (2007) won the Library of Virginia Literary Award for Fiction. In 2011, he published his latest novel Oil on Water and edited The Granta Book of the African Short Story. He is currently Associate Professor of Creative Writing at George Mason University and returns to Nigeria each summer to teach a writing workshop.
Ivan Vladislavić is a writer of fiction and non-fiction celebrated in his native South Africa for seeing history in the quotidian and juxtaposing the banal and the bizarre. His debut story collection Missing Persons (1989) mined the dark absurdity of daily life under apartheid and was awarded the Olive Schreiner Prize. Missing Persons was republished in 2010 alongside his second collection Propaganda by Monuments (1996) as the single volume Flashback Hotel: Early Stories. These writings, along with his editorial work at Staffrider Magazine and Ravan Press, made Vladislavic a key figure of literary resistance to "the demented, divided space of apartheid." In Double Negative (2010), Vladislavic's protagonist wonders, "How much past can the present bear?" His post-apartheid novels have continued to explore the texture and tensions of the new South Africa with his signature humor and insight. Vladislavić has twice won the University of Johannesburg Prize, first for his nonfiction book Portrait with Keys: The City of Johannesburg Unlocked (2006) and again for Double Negative. His novel Restless Supermarket (2001) was awarded the Sunday Times Prize for Fiction. He was recently appointed a distinguished professor at the University of the Witwatersrand.
Nonfiction:
Edmund de Waal is a British artist and author of the memoir The Hare with Amber Eyes (2010). This moving family history follows the shifting ownership of 264 Japanese netsuke originally acquired in 1870s Paris by the cousin of de Waal's great-grandfather Viktor Ephrussi. The figurines survived multiple migrations and the horrors of Nazism to reach de Waal, whose book was praised in the Guardian as constituting "a new genre, unnamed and maybe unnameable." The Hare with Amber Eyes was awarded the Royal Society of Literature Ondaatje Prize, the Costa Book Award for Biography, and the Galaxy National Book Award for New Writer of the Year. De Waal's second book, The White Road, is being published this September. It is a journey through a thousand years of stories about porcelain, from those who first made it in China and its collectors in Europe, to those who were destroyed by it in the darkest moments of twentieth century history. It is de Waal's memoir of making. His ceramics and installations have been exhibited in museums around the world. In 2011 he was awarded an OBE for his services to art.
Geoff Dyer is the author of eight books of nonfiction and four novels. Whether wrestling with the specter of D.H. Lawrence (Out of Sheer Rage, 1997), "summarizing the action" of a famously slow-moving Tarkovsky film (Zona, 2012), or narrating his stay aboard an aircraft carrier (Another Great Day at Sea, 2014), Dyer's genre-defying explorations have earned him universal admiration as singularly restless and original in his vision. Writing in the New York Review of Books, Giles Harvey noted approvingly, "This prowling and capricious nature has produced one of the strangest bodies of work in contemporary letters." In addition to his book-length works, Dyer has written numerous essays and reviews for a variety of publications, a selection of which were collected in Otherwise Known as the Human Condition (2011) and awarded the National Book Critics Circle Award for Criticism. His most recent novel is Jeff in Venice, Death in Varanasi (2009). Dyer was born in Cheltenham, England, and currently resides in Los Angeles.
John Jeremiah Sullivan is an essayist of astonishing range, taking up subjects as diverse as Southern Agrarians, Michael Jackson, and MTV's The Real World. Dwight Garner described Sullivan in the New York Times as "among the best young nonfiction writers in English," and his empathetic and bracingly intelligent profiles have earned him comparisons to Tom Wolfe and David Foster Wallace. His essays have appeared in The Paris Review, GQ, Harper's Magazine, The New York Times Magazine, Oxford American, and elsewhere. Reviewing his collection Pulphead (2011) in the New Yorker, James Wood wrote that Sullivan "seems to have in abundance the storyteller's gifts: he is a fierce noticer, is undauntedly curious, is porous to gossip, and has a memory of childlike tenacity." Pulphead was preceded by Blood Horses: Notes of a Sportswriter's Son (2004), an ambitious meditation on horse racing instigated by his father's fond memory of the Kentucky Derby. Sullivan has been awarded two National Magazine Awards, a Whiting Writers' Award, and a Pushcart Prize. He lives in Wilmington, North Carolina.
Drama:
Jackie Sibblies Drury is a playwright whose brilliant, self-reflexive plays elucidate the ways in which social divisions continue to frame and fracture our work and our world. We Are Proud to Present a Presentation About the Herero of Namibia, Formerly Known as South West Africa, From the German Sudwestafrika, Between the Years 1884-1915 premiered in 2012 to universal acclaim and won an Edgerton Foundation New American Play Award. The meta-theatrical play recreates an acting company's bumbling and often tense efforts to compose a show about colonialist genocide. Drury's follow-up production Social Creatures (2013), commissioned by Trinity Repertory Company of Providence, projects her concerns into an apocalyptic future, when a group of survivors hiding from a deadly pandemic quarantine an African-American stranger seeking to share their company. Drury has been the inaugural recipient of the Jerome New York Fellowship, a New Dramatists Van Lier Fellow, and a New York Theater Workshop Emerging Artist of Color Fellow. Her one-act and now I only dance at weddings was staged as part of the 38th Humana Festival's show "Remix 38" in April 2014.
Helen Edmundson is a British playwright admired for her original work as well as her masterful adaptations of the literary classics Anna Karenina (1992), The Mill on the Floss (1994), and War and Peace (1996). Her plays are simultaneously vast and intimate, at once complicating familiar figures and dexterously illuminating the history they helped shape. "All my plays start with ideas," Edmundson told The Guardian. "I wouldn't want someone to leave and not feel they've been made to think about the world they're living in." The Clearing (1993), one of her earliest original plays, addresses Oliver Cromwell's devastation of Ireland through the lens of individual characters' conflicted loyalties. It won a Time Out Theatre Award and a John Whiting Award. The Heresy of Love, a bold take on seventeenth-century Mexican nun and writer Sister Juana Inés de la Cruz, and Mary Shelley, about the eponymous author and her philosopher father, both premiered in 2012. Her new adaptation of Emile Zola's novel Thérèse Raquin will be staged by New York's Roundabout Theater this October, featuring Keira Knightly in her Broadway debut.
Debbie Tucker Green is a British playwright whose poetic and challenging work reinvents the medium with each new production. Tucker Green's polyvocal plays have been praised in the US and UK as "intense," "densely lyrical," and "emotionally charged." Her early piece born bad (2003), a spare, haunting exhumation of family trauma, won the Laurence Olivier Award for Best Newcomer. Writing about Soho Repertory Theater's recent production of generations (2014) in the New Yorker, Hilton Als marveled, "this miniature spectacle, set in black South Africa, sounds like Gertrude Stein by way of Soweto." Tucker Green has also written for radio and television, winning a 2012 BAFTA Award for Best Single Drama for her Channel 4 adaptation of her play random. Her feature film debut Second Coming premiered last year at the Toronto International Film Festival.
The Windham Campbell Prizes are administered by Yale's Beinecke Rare Book & Manuscript Library, which houses the Donald Windham and Sandy M. Campbell Papers. For further information, please visit windhamcampbell.org, or contact Lauren Cerand, (917) 533-0103, correspondence@laurencerand.com.
Ends
Book details