Amid heavy security, Charlie Hebdo magazine received a controversial freedom of expression award from PEN America this week.
The award was accepted by the magazine's top editor Gérard Biard and its film critic Jean-Baptiste Thoret – to a standing ovation. "Being shocked is part of democratic debate," Biard said. "Being shot is not."
Following the announcement of PEN America's decision to honour the French satirical magazine with its annual PEN/Toni and James C Goodale Freedom of Expression Courage Award at the end of April, six international authors – including Teju Cole, Taiye Selasi and Michael Ondaatje – withdrew as table hosts for the annual gala.
These authors came under heavy criticism from Salman Rushdie, and a heated debate followed.
Six new writers then stepped in as table hosts late last week, including Alain Mabanckou, Neil Gaiman, Art Spiegelman, Alison Bechdel, George Packer and Azar Nafisi, with Mabanckou agreeing to present the award to Charlie Hebdo.
During the gala event, the French-Congolese author told the audience that he was "deeply honoured" to do so, saying that the magazine was and always had been "anti-racist" and said he admired its belief that "there were no taboos when it came to exercising free speech".
Mabanckou also stressed the importance of understanding different cultural views of satire, saying that aspect had not received enough attention in the debate: "I believe one needs to understand the very specific nature of these types of satirical forms found in France and a number of European countries."
On the day of the award, PEN received a letter from some of its members, with a cover note by Teju Cole stating that "a necessary dissent was expressed and it is time to move on". Among the 242 signatories are Gabeba Baderoon, Taiye Selasi, Chris Abani.
Read Cole's letter:
On behalf of the 242 signatories below, Francine Prose and I are passing along this letter. We would be delighted if you would put the letter and signatories up on the PEN website as soon as is feasible, in recognition of the seriousness and moral commitment of its signatories, as well as their collective investment in the work of PEN. I imagine that this conciliatory gesture will satisfy the need, for most of the signatories, to be heard on this matter. I obviously can't make promises for anyone, but the honest sense I've gotten from the few people I've talked to is that a necessary dissent was expressed and it is time to move on.

On a personal note, I'd like to add that I very sincerely wish you a good, safe PEN Literary Gala tonight, as well as the same for this morning's panel. Some of the people I love most in the world will be at tonight's gala. My thoughts are with everyone who will be in that room tonight.

Francine and I admire PEN's work, we fully understand its irreplaceable value, and look forward to doing more for the organization in the future.

all best wishes,

Teju Cole

Distinguished Writer in Residence, Bard College

Photography Critic, The New York Times Magazine
The main letter reads:
It is clear and inarguable that the murder of a dozen people in the Charlie Hebdo offices is sickening and tragic. What is neither clear nor inarguable is the decision to confer an award for courageous freedom of expression on Charlie Hebdo, or what criteria, exactly, were used to make that decision.

We do not believe in censoring expression. An expression of views, however disagreeable, is certainly not to be answered by violence or murder.

However, there is a critical difference between staunchly supporting expression that violates the acceptable, and enthusiastically rewarding such expression.
Three other awards were presented at the PEN gala: Penguin Random House CEO Markus Dohle was the Publisher Honoree, playwright Tom Stoppard received the Allen Foundation Literary Service Award, and imprisoned Azerbaijani journalist Khadijah Ismayilova received the Barbra Goldsmith Freedom to Write Award.
Halimah Marcus reported on the gala evening for Electric Literature
Despite the armed police officers outside of the American Museum of Natural History, the metal detectors, and the gaggle of eager press inside (a group that included me), the atmosphere of last night's PEN gala was largely what one would expect from a black-tie event, congenial, formal, celebratory, and underscored by a strong allegiance to the cause: to defend freedom of expression, and to defend writers endangered because of their work.
Watch a video of the event: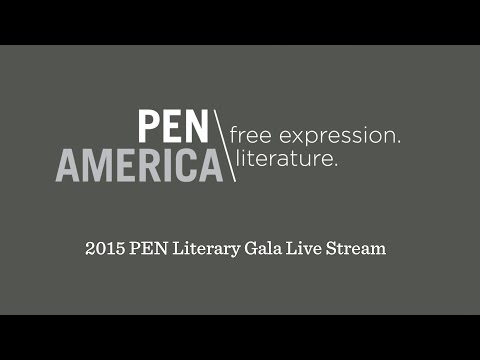 Related news:
Book details
Image courtesy EW