The New York Public Library has shared the podcast of a witty and insightful conversation between Chimamanda Ngozi Adichie and Zadie Smith that happened late last year.
The two authors discuss a wide variety of topics, from writing, to Mills and Boone; race and blackness; the differences between America, the UK and Nigeria; as well as Beyoncé, fashion, sexuality and feminism.
Adichie begins with a reading from Americanah, but not before expressing her admiration for Smith, both as a writer and as a "hot babe".
"I have admired and followed Zadie's work from the very beginning, from White Teeth," she says, "and I've also really admired that she's this brilliant woman who's also a hot babe. I think it's really important that brilliant women step out there and be hot babes."
On writing
Smith says when she first read Adichie she was struck by the "psychological acuity" of her work, and she says anyone who has ever written will know how "unbelievably difficult that is to achieve".
"I think everyone who reads you is amazed by how real these people seem," Smith says. "It goes quite beyond a lot of the fiction you read these days."
Adichie mentions the aphorism that "prose should be as clear as a window pane", but says the truth is more mysterious than that.
"What I love about fiction writing is that there's that moment when something magic happens," she says. "You have moments when nothing's happening, it's not going well. Then there's the moment when you just become transported, and you really forget how much time has past. When I'm sitting writing, that's what I'm hoping will happen.
"But when I'm editing, clarity is important to me. It's easy to confuse something that's badly written as somehow deep. The sentences I admire are the sentences that are lucid."
Smith says she feels Adichie's characters move with extraordinary freedom: "They feel utterly genuine to me, as if these people have risen out of the ground, they exist, and you are just following them around."
Adichie says she likes to think of Americanah as her "fuck you book", adding that the moniker is addressed, in part, to another, more deferential, version of herself.
"With Half of a Yellow Sun I was very dutiful. I think for so long I've been a dutiful daughter of literature," Adichie says. "I followed the rules. With Americanah I thought, 'I'm going to write the book I want to write'."
Women in fiction
Smith asks Adichie about her female characters, which she feels are of a type quite unusual in American fiction: "The women in your fiction are somehow always themselves. They're always confident."
Adichie agrees, saying: "I hear from people, 'Your female characters are so strong, how do you do that?'
"For me, I'm writing about women who are familiar. Not to say that all the women I know are strong and have their shit together, they're not. But to say that the idea of a woman being strong and simply being strong not to prove anything, or not to be unusual, is normal to me."
On Mills & Boon and owning your sexuality
Smith turns the conversation to relationships, saying that the relationships in Adichie's books are "not a light matter", comparing her treatment of romantic and sexual relationships to Zora Neale Hurston's Their Eyes Were Watching God.
Adichie asks Smith if she read Mills and Boon growing up, but Smith says her mother banned the books from the house.
"When I was growing up, every girl read Mills and Boon," Adichie says, "and I think I read maybe 200."
"But in those books girls wait, no? Your girls don't wait," Smith says, to the delight of Adichie, and the audience.
Adichie replies that her books are in the grand tradition of Mills and Boon but are also anti-Mills and Boon.
"It took me a little while to realise that I really don't like the Mills and Boon format, where the man decides," Adichie says. "The destiny of the relationship is in the hands of the man, and it's okay if they meet, they don't like each other, and he grabs her at some point and she melts. You know that idea that a woman can't own her sexuality, can't own her choices? So my work is the anti-Mills and Boon in many ways. The women in my world don't have to wait because they're women."
Smith says: "Maybe it's that difference that Alice Walker pointed out so many years ago between 'feminine' and 'womanist': the idea of not being something that's just passive, waiting to be taken, but something that acts in the world."
On fashion and women's magazines
After a fascinating discussion of race, tempered by the fact that both Smith and Adichie are non-Americans living in America, the conversation turned to fashion and whether black women should be more represented in women's magazines, or whether they are boxed in by those aesthetics.
"I have a probably unpopular opinion," Smith says, "but I grew up with a mother with no interest in any of that — makeup, magazines, anything — and I was really happy. So my feeling is, to be honest, I don't really want to be in those magazines. I don't really like those magazines. And I know it's a matter of representation and it's meant to be equality, but do you want to be equal with something that makes so many people miserable?
"I quite like the fact that we had our own aesthetic and we had our own way of being and it had nothing to do with weighing five pounds … I don't care about those magazines. I know it's important to be represented, but personally, if you're asking me honestly, I don't like that stuff and I don't want to be a part of it anyway."
Adichie disagrees, saying she believes "it really does matter", and that despite appearances the argument has nothing to do with men.
"It's one think to have our own verified, wonderful little bubbles and to be happy in them," she says, "but there's a wider world out there. And so you're raising a daughter; you're not going to be able to keep her away from those things, it's not going to happen. My mother was the exact opposite of yours, she was very interested in all of those things.
"It's not even about the male gaze. Men don't get female fashion. I don't even think about men when I make my choices, because they're irrelevant. I love men but they just don't get it. It's about me. And I don't want to live in a world where I have to apologise for liking what I like."
Smith says the black women that are featured in those kinds of magazines are not familiar anyway: "They don't look like black women that I know. They're under a different aesthetic."
Adichie assents that the images are "unattainable", but argues that they don't have to be, adding: "Even for me that's progress. It's still better to have black faces that weigh five pounds than not to have any faces that are black."
Related stories:

Listen to the podcast: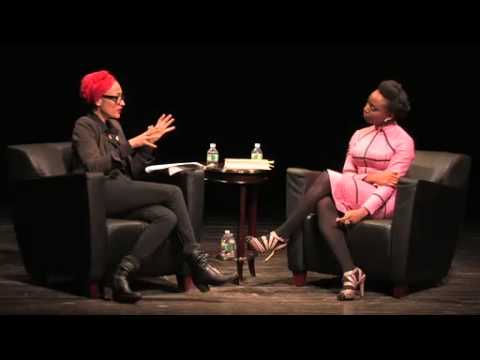 Image courtesy of The Times
Book details