Novelist and essayist Dubravka Ugrešić has been announced as the winner of the 2016 Neustadt International Prize for Literature. This Sunday, read a selection of excerpts from her work, peruse some interviews, and watch a video of the author at Boston University.
The biennial Neustadt Prize recognises outstanding literary merit in literature worldwide, and is often referred to as the "American Nobel". It is one of the few international prizes for which poets, novelists and playwrights are all eligible. Winners are awarded $50 000, a replica of an eagle feather cast in silver and a certificate. The prize is awarded in alternating years with the NSK Neustadt Prize for Children's Literature.
This year's Neustadt Prize finalists were Can Xue, Caryl Churchill, Carolyn Forché, Aminatta Forna, Ann-Marie MacDonald, Guadalupe Nettel, Don Paterson and Ghassan Zaqtan. For the first time, female authors made up the majority of the finalists.
From The Neustadt Prize:
Born in the former Yugoslavia and now residing in Amsterdam, Ugrešić is considered one of Europe's most distinctive novelists and essayists. Marked by a combination of irony and compassion, her books have been translated into more than 20 languages, and she is the winner of several other major literary prizes, including the Austrian State Prize for European Literature (1998) and Jean Améry Essay Prize (2012). She was also a finalist for the Man Booker International Prize in 2009, and her work Karaoke Culture (2011) was a finalist for the National Book Critics Circle Award for Criticism.

Mozambique author Mia Couto received the 2014 Neustadt Prize, becoming the first Mozambican author to be honoured with the prestigious title.


Neustadt Prize juror Allison Anderson, who nominated Ugrešić for the award, says: "Dubravka's win is a double win for me because she is a non-[native] English speaker and a woman. I came across her work back in 1997 when I was on contract to teach English in Croatia and fell in love with her essays.
"As someone who voluntarily went into exile, she describes the shared experience of solitude with her stories of refugees. She covers injustice, corruption and everything that's wrong in the world, but in a quiet way."
Ugrešić was notified of her win ahead of the prize announcement on Friday, and said: "I'm delighted to win the prize, especially in light of such strong competition. I am already looking forward to being there with World Literature Today for the festival in 2016."
Read an excerpt from Ugrešić's 2014 book, Europe in Sepia, which hurtles "between Weltschmerz and wit, drollness and diatribe, entropy and enchantment":
"Jumping off the Bridge"

I was glued to reports on the recent riots in the London boroughs of Tottenham, Hackney, and Brixton, stunned by the images of seething youth smashing shop windows and making their grab for street wear and electronics. Expensive mobile phones apparently topped their consumer desires, a detail that disappointed many commentators (If only they'd stolen bread and milk, we'd understand!). I became fixated on something else though: a Waterstones' bookstore the kids passed by might as well have been an undertaker's. But they didn't miss a beat in cleaning out the backpack of another dazed and confused kid who obviously needed medical attention, leaving him bloodied and lost in the street. On our television screens, we shocked viewers saw what we were given to see. Each of us projected our own fears onto the Rorscharchian stain of the London riots.
From The Paris Review, an essay on the philosophy of minibars from Karaoke Culture (2011):
And this is actually the point: love. Minibars are all about love. Let's think about it: What is, in actual fact, a minibar? A minibar is designed as a dollhouse for grown men. Men love their "kiddies." A hip flask, the teenage dream of today's seventy-year-old, was known as a "buddy." Kiddie, buddy, minibar—they're all diminutives for a guilty something. Guilt in the diminutive is not guilt; it's the simulation of guilt. And therein lies the unique effect of the minibar.

For many a lonely businessman, the minibar is a symbolic substitute for home. Getting back to your room, opening the little fridge door, popping open a bottle of beer, flopping down into an armchair and putting one's feet up on the table—it's a ritual deeply ingrained in the imaginary, even of those who don't come home, open the fridge, and take a beer.

The minibar is also designed as a first-aid kit. Even if you've never used it, the thought of your home first-aid kit makes you feel safe and protected. That's why some minibars also have condoms. "Buddies" to protect you from "kiddies."

The minibar is also a kind of temple, a place where we come face-to-face with the metaphysical.
Finally, read an excerpt from Baba Yaga Laid an Egg (2009), in which Ugrešić "explores the issues of women and aging through three different retellings of the Baba Yaga story":
LANGUAGE ADVISORY: This excerpt contains language some might find offensive.

Chapter 1: Birds in the Treetops Growing by My Mother's Window

The air in the New Zagreb neighbourhood where my mother lives smells of bird droppings in summer. In the leaves of the trees out in front of her apartment building jostle thousands and thousands of birds. Starlings, people say. The birds are especially raucous during humid afternoons, before it rains. Occasionally a neighbour takes up an airgun and chases them off with a volley of shots. The birds clamour skywards in dense flocks, they zigzag up and down, exactly as if they are combing the sky, and then with hysterical chirruping, like a summer hailstorm, they drop into the dense leaves. It is as noisy as a jungle. All day long a sound curtain is drawn, as if rain is drumming outside. Light feathers borne by air currents waft in through the open windows. Mum takes up her duster, and, muttering, she sweeps up the feathers and drops them into the bin.

'My turtledoves are gone,' she sighs. 'Remember my turtledoves?'

'I do,' I say.

I vaguely recall her fondness for two turtledoves that came to her windowsill. Pigeons she hated. Their muffled cooing in the morning infuriated her.

'Those repulsive, repulsive fat birds!' she said. 'Have you noticed that even they have gone?'

'Who?'

'The pigeons!'

I hadn't noticed, but sure enough, it seemed that the pigeons had fled.
Ugrešić's 2003 book Thank You For Not Reading is an inflammatory series of essays on the state of the publishing industry. In an interview with Bookslut, she speaks about her views:
The New York Times has just announced they'll be reviewing less literary fiction in order to focus on "airport" fiction. Do you think this is a surprising move? How do you think this will affect publishing?

An airport is the most common metaphor for our contemporary world, for its mobile part. Airports are becoming big shopping malls. And more: on Dutch Shipol Airport you can find many things, even a small mosque in case you get an urge to leave a message on Allah's answering machine.

A dream (or nightmare) of many writers is to see their books in the airport bookstores. NYT's announcement sounds as a realization of that airport-metaphor. Airport people are supposed to buy NYT in the airport newspaper stands, to read book reviews on airport fiction, and then buy that fiction in the airport bookstores.

All in all, it's not a surprising move. The publishing industry behaves like any other industry, and the book is treated like any other product.

Within that reality there are some exit-options. There is a small airport in North Carolina, Raleigh-Durham, with a secondhand bookstore. A couple of years ago I found there a good books for a small price. I hope that this secondhand bookstore is still there.
In an interview with Music and Literature, Ugrešić chats about her "literary apprenticeship", which consisted of reading, studying, collecting and translating:
One has to earn the right to write, the right to "a voice." I propagated an old-fashioned apprenticeship. I was a passionate reader from an early age. I studied comparative literature. I wrote about other writers. I translated them, too, from Russian to Croatian. I assembled anthologies. I edited, selected, and collected works of classical writers (Chekhov and Gogol, for example). I edited scholarly editions. I did a bit of literary history, criticism, and theory. I rediscovered some forgotten Russian writers (such as Leonid Dobychin and Konstantin Vaginov) and wrote about them. I think that the notion of a literary work ethic is extremely important, especially today when practically anybody can write, produce, and distribute his or her own work. This work ethic presupposes knowledge and a deep respect toward—and compassion for—your ancestors and contemporaries, toward your trade. It also assumes a deep awareness of what one is doing, why one is doing what one is doing, what the sense of the work is, what it brings to the cultural context, what it brings to the reader, and so on and so forth.
Watch a reading and conversation with Ugrešić, taken from Boston University's "European Voices" series: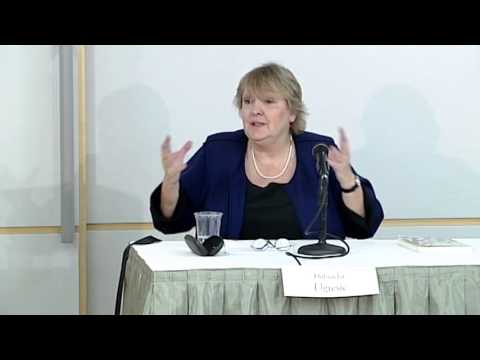 Dubravka Ugresic, one of Europe's most distinctive novelists and essayists joined us for a reading. From her early postmodernist excursions, to her elegiac reckonings in fiction and the essay with the disintegration of her Yugoslav homeland and the fall of the Berlin Wall, through to her more recent writings on popular and literary culture, Ugresic's work is marked by a rare combination of irony, polemic, and compassion. The event will be moderated by Igor Lukes, Professor of International Relations and History.
Following degrees in Comparative and Russian Literature, Dubravka Ugresic worked for many years at the University of Zagreb's Institute for Theory of Literature, successfully pursuing parallel careers as both a writer and as a scholar. In 1991, when war broke out in the former Yugoslavia, Ugresic took a firm anti-war stance, critically dissecting retrograde Croatian and Serbian nationalism, the stupidity and criminality of war, becoming a target for nationalist journalists, politicians, and fellow writers in the process. Subjected to prolonged public ostracization and persistent media harassment, she left Croatia in 1993. In a voluntary exile that has in time become emigration, her books have been translated into over twenty languages. She lives and works in Amsterdam.
This event takes place as part of our "European Voices" series — an ongoing series of conversations with artists and writers, activists and intellectuals exploring questions at the intersection of politics and culture. Co-sponsored by the literary journal AGNI. Funded in part by the European Commission Delegation in Washington DC.
This event is brought to you by the Center for the Study of Europe, as part of International Education Week, a university-wide celebration of BU's global engagement.
Book details